The Woman in White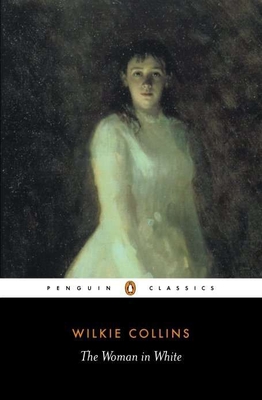 The Woman in White
Penguin Books, Paperback, 9780141439617, 720pp.
Publication Date: April 2003
* Individual store prices may vary.
Shop Local
Enter your zip code below to find indies closest to you.
Description
Wilkie Collins's The Woman in White, the first Victorian 'sensation novel' and one of the earliest mystery novels in English, weaves multiple narratives into a thrilling and suspenseful tale of mistaken identity and dark desires. This Penguin Classics edition is edited with notes and an introduction by Matthew Sweet. The Woman in White famously opens with Walter Hartright's eerie encounter on a moonlit London road. Engaged as a drawing master to the beautiful Laura Fairlie, Walter is drawn into the sinister intrigues of Sir Percival Glyde and his 'charming' friend Count Fosco, the 'Napoleon of crime', who has a taste for white mice, vanilla bonbons and poison. Pursuing questions of identity and insanity along the paths and corridors of English country houses and the madhouse, The Woman in White is the first and most influential of the Victorian genre that combined Gothic horror with psychological realism. Matthew Sweet's introduction explores the phenomenon of Victorian 'sensation' fiction, and discusses Wilkie Collins's biographical and societal influences. Included in this edition are appendices on theatrical adaptations of the novel and its serialisation history. Wilkie Collins (1824-1889) was born in London in 1824, the eldest son of the landscape painter William Collins. In 1846 he was entered to read for the bar at Lincoln's Inn, where he gained the knowledge that was to give him much of the material for his writing. From the early 1850s he was a friend of Charles Dickens, who produced and acted in two melodramas written by Collins, The Lighthouse and The Frozen Deep. Of his novels, Collins is best remembered for The Woman in White (1859), No Name (1862), Armadale (1866) and The Moonstone (1868). If you enjoyed The Woman in White, you might like Sir Arthur Conan Doyle's A Study in Scarlet, also available in Penguin Classics.
About the Author
English novelist and playwright Wilkie Collins was a prolific writer with a body of work comprising thirty novels, over sixty short stories, more than a dozen plays, and a wide range of non-fiction pieces. Collins is best known for his novels The Woman in White, an early sensation novela genre combining shocking gothic horror with everyday domestic settingsand The Moonstone, which is credited as one of the first modern mystery novels. In the 1850s Collins met Charles Dickens and the two struck up a friendship, which lead to Collins becoming a frequent contributor to Dickens s journals Household Words and All the Year Round. Many of his stories have been adapted for film, including Basil, A Terribly Strange Bed, The Moonstone and The Woman in White. Collins died in 1889 at the age of 65.



Matthew Sweet recently completed his thesis on sensation fiction. His work appears regularly in "The Independent and "The Guardian. He lives in London.