Vanity Fair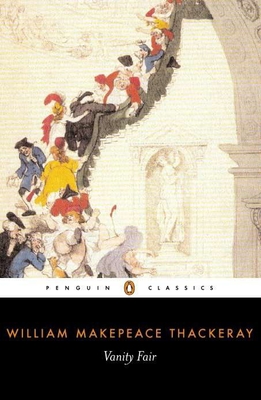 Vanity Fair
Penguin Books, Paperback, 9780141439839, 912pp.
Publication Date: April 29, 2003
* Individual store prices may vary.
Buy at Local Store
Enter your zip code below to purchase from an indie close to you.
or
Buy Here
Description
No one is better equipped in the struggle for wealth and worldly success than the alluring and ruthless Becky Sharp, who defies her impoverished background to clamber up the class ladder. Her sentimental companion Amelia, however, longs only for caddish soldier George. As the two heroines make their way through the tawdry glamour of Regency society, battles military and domestic are fought, fortunes made and lost. The one steadfast and honourable figure in this corrupt world is Dobbin with his devotion to Amelia, bringing pathos and depth to Thackeray's gloriously satirical epic of love and social adventure.
About the Author
William Makepeace Thackeray was a nineteenth century English novelist who was most famous for his classic novel, Vanity Fair, a satirical portrait of English society. With an early career as a satirist and parodist, Thackeray shared a fondness for roguish characters that is evident in his early works such as Vanity Fair, The Luck of Barry Lyndon, and Catherine, and was ranked second only to Charles Dickens during the height of his career. In his later work, Thackeray transitioned from the satirical tone for which he was known to a more traditional Victorian narrative, the most notable of which is The History of Henry Esmond. Thackeray died in 1863.

Sigmund Freud (1856-1939) lived his entire life in Vienna until Hitler's invasion of Austria forced him to seek asylum in London in 1938. The father of psychoanalysis, he exerted a profound influence over the whole intellectual climate of the twentieth century.
Adam Phillips was formerly Principal Child Psychotherapist at Charing Cross Hospital in London. He is the author of several books on psychoanalysis, including "On Kissing, Tickling, and Being Bored"; "Darwin's Worms"; "Promises, Promises"; and "Houdini's Box,"
Joyce Crick was for many years a senior lecturer in German at University College London. In 2000, she was awarded the Schlegel Tieck Prize for her translation of Freud's "The Interpretation of Dreams" for Oxford University Press.
John Carey is an emeritus professor of English at Oxford, a fellow of the British Academy, and chief book reviewer for the London "Sunday Times,"