The Ambassadors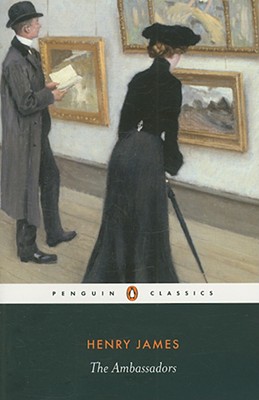 The Ambassadors
Penguin Books, Paperback, 9780141441320, 495pp.
Publication Date: July 1, 2008
* Individual store prices may vary.
Buy Now
or
Shop Local
Enter your zip code below to purchase from an indie close to you.
Description
The greatest expression of his talent for witty, observant explorations of what it means to 'live well', Henry James's "The Ambassadors" is edited with an introduction and notes by Adrian Poole in Penguin Classics.
Concerned that her son Chad may have become involved with a woman of dubious reputation, the formidable Mrs Newsome sends her 'ambassador' Strether from Massachusetts to Paris to extricate him. Strether's mission, however, is gradually undermined as he falls under the spell of the city and finds Chad refined rather than corrupted by its influence and that of his charming companion, Madame de Vionnet, and her daughter, Jeanne. As the summer wears on, Mrs Newsome concludes that she must send another envoy to confront the errant Chad - and a Strether whose view of the world has changed profoundly. One of the greatest of James's late works, "The Ambassadors" is a subtle and witty exploration of different responses to a European environment.
This edition of The Ambassadors includes a chronology, further reading, glossary, notes and an introduction discussing the novel in the context of James's other works on Americans in Europe, and the novel's portrayal of Paris.
About the Author
Henry James was born the son of a religious philosopher in New York City in 1843. His famous works include The Portrait of a Lady, Washington Square, Daisy Miller, and The Turn of the Screw. He died in London in 1916, and is buried in the family plot in Cambridge, Massachusetts.

Henry James (1843a1916) wrote more than twenty novels, including "The Portrait of a Lady, The Turn of the Screw," and "The Golden Bowl," Philip Horne, series editor, is a professor of English at University College London. Adrian Poole is a fellow of Trinity College, Cambridge. Andrew Taylor is a lecturer in English at the University of Edinburgh. Millicent Bell is an emerita professor of English at Boston University.

Adrian Poole is Professor of English Literature at the University of Cambridge and a Fellow of Trinity College.