The Planets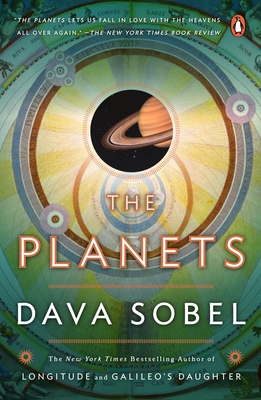 The Planets
Penguin Books, Paperback, 9780142001165, 276pp.
Publication Date: November 1, 2006
* Individual store prices may vary.
Buy at Local Store
Enter your zip code below to purchase from an indie close to you.
or
Buy Here
Description
With her bestsellers "Longitude" and "Galileo's Daughter," Dava Sobel introduced readers to her rare gift for weaving complex scientific concepts into a compelling narrative. Now Sobel brings her full talents to bear on what is perhaps her most ambitious topic to date-the planets of our solar system. Sobel explores the origins and oddities of the planets through the lens of popular culture, from astrology, mythology, and science fiction to art, music, poetry, biography, and history. Written in her characteristically graceful prose, "The Planets" is a stunningly original celebration of our solar system and offers a distinctive view of our place in the universe.
* A "New York Times" extended bestseller
* A Featured Alternate of the Book-of-the-Month Club, History Book Club, Scientific American Book Club, and Natural Science Book Club
* Includes 11 full-color illustrations by artist Lynette R. Cook BACKCOVER: " "The Planets"] lets us fall in love with the heavens all over again."
-"The New York Times Book Review"
"Playful . . . lyrical . . . a guided tour so imaginative that we forget we're being educated as we're being entertained."
-"Newsweek"
" Sobel] has outdone her extraordinary talent for keeping readers enthralled. . . . "Longitude" and "Galileo's Daughter" were exciting enough, but "The Planets" has a charm of its own . . . . A splendid and enticing book."
-"San Francisco Chronicle"
"A sublime journey. Sobel's] writing . . . is as bright as the sun and its thinking as star-studded as the cosmos."
-"The Atlanta Journal-Constitution"
"An incantatory serenade to the Solar System. Grade A-"
-"Entertainment Weekly"
"Like Sobel's "Longitude" and "Galileo's Daughter"] . . . "The Planets"] combines masterful storytelling with clear, engaging explanations of the essential scientific facts."
-"Physics World.
About the Author
Dava Sobel (born June 15, 1947) is the author of "Longitude, Galileo's Daughter, The Planets, " and most recently "A More Perfect Heaven: How Copernicus Revolutionized the Cosmos". A former staff science reporter for "The New York Times, " she has also written for numerous magazines, including "Discover, " "Harvard Magazine, Smithsonian, " and "The New Yorker".
Her most unforgettable assignment at the "Times" required her to live 25 days as a research subject in the chronophysiology lab at Montefiore Hospital, where the boarded-up windows and specially trained technicians kept her from knowing whether it was day outside or night.
Her work has won recognition from the National Science Board, which gave her its 2001 Individual Public Service Award "for fostering awareness of science and technology among broad segments of the general public." She also received the 2004 Harrison Medal from the Worshipful Company of Clockmakers in England and the 2008 Klumpke-Roberts Award from the Astronomical Society of the Pacific for "increasing the public understanding and appreciation of astronomy."
A 1964 graduate of the Bronx High School of Science, she has taught several seminars in science writing at the university level, and held a two-year residency at Smith College in fall 2013.
Praise For The Planets…
"Playful . . . lyrical . . . a guided tour so imaginative that we forget we're being educated as we're being entertained." —Newsweek



"[Sobel] has outdone her extraordinary talent for keeping readers enthralled. . . . Longitude and Galileo's Daughter were exciting enough, but The Planets has a charm of its own . . . . A splendid and enticing book." —San Francisco Chronicle



"A sublime journey. [Sobel's] writing . . . is as bright as the sun and its thinking as star-studded as the cosmos." —The Atlanta Journal-Constitution



"An incantatory serenade to the Solar System. Grade A-" —Entertainment Weekly



"Like Sobel's [Longitude and Galileo's Daughter] . . . [The Planets] combines masterful storytelling with clear, engaging explanations of the essential scientific facts." —Physics World


Friday, Dec 21, 2012
The SciFri Book Club is touring the solar system, with Dava Sobel's 2005 The Planets. Call in with a review of the book. Plus Jim Green, director of planetary science at NASA, joins the club to give an update on what's happened planet-wise since the book was published. More at NPR.org