The Fall of Berlin 1945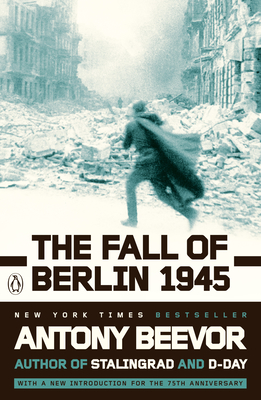 The Fall of Berlin 1945
Penguin Books, Paperback, 9780142002803, 528pp.
Publication Date: April 29, 2003
* Individual store prices may vary.
Buy Now
or
Shop Local
Enter your zip code below to purchase from an indie close to you.
Description
"A tale drenched in drama and blood, heroism and cowardice, loyalty and betrayal." Jonathan Yardley, "The Washington Post
"Beevor's latest book"Ardennes 1944: The Battle of the Bulge"is now available from Viking Books
The Red Army had much to avenge when it finally reached the frontiers of the Third Reich in January 1945. Frenzied by their terrible experiences with Wehrmacht and SS brutality, they wreaked havoc tanks crushing refugee columns, mass rape, pillage, and unimaginable destruction. Hundreds of thousands of women are children froze to death or were massacred; more than seven million fled westward from the fury of the Red Army. It was the most terrifying example of fire and sword ever known.
Antony Beevor has reconstructed the experiences of those millions caught up in the nightmare of the Third Reich's final collapse. The Fall of Berlin is a terrible story of pride, stupidity, fanaticism, revenge, and savagery, yet it is also one of astonishing endurance, self-sacrifice, and survival against all odds.
About the Author
Antony Beevor a ete officier de carriere dans l armee britannique. Depuis vingt ans, il se consacre comme ecrivain a l histoire du xxesiecle et particulierement a la Seconde Guerre mondiale, dont il est devenu un expert inconteste. Il a publie en France Stalingrad (1999) et La Chute de Berlin ( 2004) (tous deux chez De Fallois), et, chez Calmann-Levy, Le Mystere Olga Tchekhova (2005), La Guerre d Espagne (2006), D-Day et la Bataille de Normandie (2009) et un recueil commente des Carnets de Guerre de Vassili Grossman (2007). Il a recu de nombreux prix et a vendu plus de cinq millions d exemplaires de ses uvres en trente langues. Il est professeur honoris causa des universites de Kent et de Bath et a preside la Societe des Auteurs britannique.
Praise For The Fall of Berlin 1945…
"There was no more hellish place on earth than Berlin in 1944...[and] Beevor has created haunting images of the war's final days." —The New York Times Book Review



"Beevor is...a superb writer, a diligent researcher and a master of battlefield detail." —The Chicago Tribune



"A tale drenched in drama and blood, heroism and cowardice, loyalty and betrayal." —Jonathan Yardley in The Washington Post



"Antony Beevor is a British historian of great distinction and range, who has written widely on military affairs in the twentieth century. His history of the battle of Stalingrad was awarded the Samuel Johnson Prize for Non-Fiction, the Wolfson History Prize and the Hawthornden Prize for Literature. To write a successor to that excellent chronicle of the savagery of modern warfare could not have been easy. . . But Beevor once more demonstrates his mastery of his sources, including newly discovered material from Soviet archives, and his skill in describing complicated operations." —Gordon Craig in the New York Review of Books.



"A quite splendid book, one which combines a calm and scholarly narrative with an unrelenting moral indignation at what he has uncovered. It stands as a superbly lucid examination of one of the most dreadful battles in world history." —Kevin Myers in the Irish Times.



"With [the Red Army] travels Antony Beevor—understanding the wider strategic issues as well as feeling the plight of the simple soldiers of both sides, in this mother of all battles, carrying on his back an imposing pack of research as well as compassion. His majestic earlier book, Stalingrad, equips him to be the essential concomitant to write this final battle." —Alistair Horne in The Times (London).



"As in his Stalingrad, Antony Beevor skilfully combines the big picture of the developing strategic situation with a sense of the extraordinary experiences on the ground . . . The strength of The Fall of Berlin 1945 is an irresistibly compelling narrative, of events so terrible that they still have the power, more than half a century on, to provoke wonder and awe." —Adam Sisman in the Observer.



"An impressive contribution. . . packed with stories about soldiers and civilians at the extremes of human experience, Berlin excites and informs."  —The Economist



"In Stalingrad Beevor gave us a riveting account of that crucial fearful battle, when Hitler's forces met their match. . . Beevor deploys the same successful techniques in Berlin. He combines a soldier's understanding of war's realities with a novelist's eye for symbolic and emotional detail. Nobody will forget the artillerists who kept their mouths open to stop their ear drums bursting as they fired their guns; the little boys in Landsberg who played war games with wooden swords amid the bombed-out ruins of their house; or the rhodedendrons that were coming into bloom as mortar-fire rained down on Berlin, darkening the street with smoke and dust. Beevor paints a terrifying picture." —Orlando Figes in the Sunday Times (London)