The Last American Man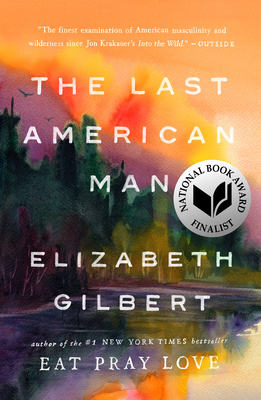 The Last American Man
Riverhead Books, Paperback, 9780142002834, 288pp.
Publication Date: May 27, 2003
* Individual store prices may vary.
Buy Now
or
Shop Local
Enter your zip code below to purchase from an indie close to you.
Description
Finalist for the National Book Award 2002
Look out for Elizabeth Gilbert's new book, "Big Magic: Creative Living Beyond Fear," on sale now
In this rousing examination of contemporary American male identity, acclaimed author and journalist Elizabeth Gilbert explores the fascinating true story of Eustace Conway. In 1977, at the age of seventeen, Conway left his family's comfortable suburban home to move to the Appalachian Mountains. For more than two decades he has lived there, making fire with sticks, wearing skins from animals he has trapped, and trying to convince Americans to give up their materialistic lifestyles and return with him back to nature. To Gilbert, Conway's mythical character challenges all our assumptions about what it is to be a modern man in America; he is a symbol of much we feel how our men should be, but rarely are.
About the Author
Nee en 1969 dans le Connecticut, Elizabeth Gilbert vit aujourd hui a Philadelphie et voyage regulierement au Bresil et a Bali. Ancienne journaliste a "GQ", a "Spin" et au "New York Times" entre autres, ses premiers ecrits sont remarques par les critiques finaliste du Hemingway Award avec "Pilgrims" en 1997 et du National Book Award avec "Stern Men" en 2000. Elle acquiert une notoriete internationale avec son roman autobiographique "Mange, Prie, Aime" (Calmann-Levy, 2008).
Praise For The Last American Man…
"The finest examination of American masculinity and wilderness since Jon Krakauer's Into the Wild." —Outside



"Wickedly well-written...Without compromising her obvious admiration, Ms. Gilbert presents a warts-and-all portrait of Mr. Conway and a sophisticated understanding of why those warts are only natural.... A vigorous, engaging book." —The New York Times Book Review



"Gilbert artfully taps into this unique life to create a fascinating, deeply thought-out and anthralling narrative." —Los Angeles Times



"A vivid, nuanced portrait of an endlessly complicated man." —San Francisco Chronicle



"The Last American Man relates the riveting story of Conway's odyssey from a child of affluent parents, to mountain man, to the owner of 1,000 acres of woods and fields in western North Carolina. Gilbert sees in Conway's life a parable for our time, a way of capturing how our culture is sapping us of all that is vital." —Chicago Tribune



"There are so many reasons to read this book. Read it for the portrait of a man who isn't divorced from the land below and the sky above. Read it to watch his youthful ambitions fade into tired gasps. Read it to see how Gilbert gets at her subject without ever stabbing him in the back." —Entertainment Weekly



"Conway is a character almost too goofd to believe...In Gilbert, he may have found the perfect writer to tell his story...from Conway's life, Gilbert takes off on delightful tangents about the nature of manhood, the appeal of utopian communities, the history of the frontier and the lingering myth of the frontiersman. The subject becomes much broader than one man's life. It's about what has been lost with progress, and what can be reclaimed." —The Atlanta Journal-Constitution



"An important book, and well-wrought to boot...Gilbert just plain catches him: It is hard to imagine a deeper, more insightful portrait...her book is wise and knowing." —Men's Journal