All Over Creation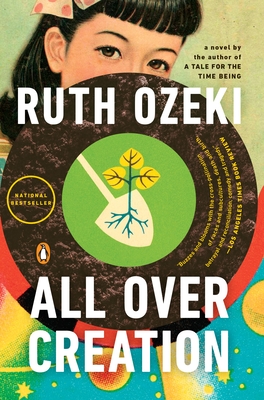 All Over Creation
Penguin Books, Paperback, 9780142003893, 432pp.
Publication Date: March 30, 2004
* Individual store prices may vary.
Buy at Local Store
Enter your zip code below to purchase from an indie close to you.
or
Buy Here
Description
A warm and witty saga about agribusiness, environmental activism, and community from the celebrated author of "My Year of Meats "and "A Tale for the Time Being"
Yumi Fuller hasn t set foot in her hometown of Liberty Falls, Idaho heart of the potato-farming industry since she ran away at age fifteen. Twenty-five years later, the prodigal daughter returns to confront her dying parents, her best friend, and her conflicted past, and finds herself caught up in an altogether new drama. The post-millennial farming community has been invaded by Agribusiness forces at war with a posse of activists, the Seeds of Resistance, who travel the country in a camping car, The Spudnick, biofueled by pilfered McDonald's french-fry oil. Following her widely hailed, award-winning debut novel, "My Year of Meats," Ruth Ozeki returns here to deliver a quirky cast of characters and a wickedly humorous appreciation of the foibles of corporate life, globalization, political resistance, youth culture, and aging baby boomers. "All Over Creation "tells a celebratory tale of the beauty of seeds, roots, and growth and the capacity for renewal that resides within us all.
About the Author
Ruth Ozeki, author of the award-winning novel "My Year of Meats," worked for more than a decade in television and film. Her documentary and dramatic films have been shown on PBS, at the Sundance Film Festival, and at colleges and universities across the country.
Praise For All Over Creation…


Praise for Ruth Ozeki and All Over Creation

"Ozeki is one of my favorite novelists . . . bewitching, intelligent, hilarious, and heartbreaking, often on the same page."
—Junot Díaz, Pulitzer Prize winner and author of This Is How You Lose Her

"In precise and luminous prose, Ozeki captures both the sweep and detail of our shared humanity. The result is gripping, fearless, inspiring and true."
—Madeline Miller, author of the Orange Prize winner The Song of Achilles

"Ozeki is a gifted storyteller. All Over Creation buzzes and blooms with the cross-pollination of races and subcultures, death and birth, betrayal and reconciliation, comedy and tragedy."
—Los Angeles Time Book Review

"Sophisticated . . . a nice blend of humor and strangely affecting optimism. Ozeki has written a book where dread and hope coexist. Neither is given short shrift or magicked away."
—The New York Times Book Review

"Ozeki joins the constellation of such environmentally aware writers as Barbara Kingsolver, Annie Proulx, and Margaret Atwood, bringing her own shrewd and playful humor, luscious sexiness, and kinetic pizzazz to the table, as well her keen interest in the interface between food, family, science, and corporate greed and the dynamics of spin. . . . Moving neatly between the intimate and the environmental, the familial and the global, Ozeki hones each vivid description, witty conversation and surprising occurrence to illuminate the complex dichotomies between love and responsibility, nature and culture, traditional and corporate agriculture, traditional and corporate agriculture, fact and fabrication."
—Chicago Tribune

"Ruth Ozeki is bent on taking the novel into corners of American culture no one else has thought to look—but where she finds us in all our technological weirdness. With a combination of humor and pathos that is all her own, Ozeki brings the American pastoral forward into the age of agribusiness and genetic engineering. The result is a smart compelling novel about a world we don't realize we live in."
—Michael Pollan

"All Over Creation opens wider with every plot twist as it moves from tenderness to comedy to sobering truth and the world in the eye of one family's storm. This is Edward Abbey's The Monkey Wrench Gang updated by thirty years, with modern environmental challenges on the map and women in the front seat, driving the story. Hooray—Ozeki rides again."
—Barbara Kingsolver

"Ozeki deftly and sensitively folds the variegated topics together, whipping up a savory treat."
—Entertainment Weekly

"This winning novel . . . is a feast of humor and wisdom about family and friendship."
—Glamour

"Bewitching . . . Ozeki'story splices a bit of Edward Abbey into an Anne Tyler plot. The fruits of this mix are definitely worth tasting."
—Publishers Weekly (starred review)

"A feast for mind and heart."
—Kirkus Reviews (starred review)