The Particle at the End of the Universe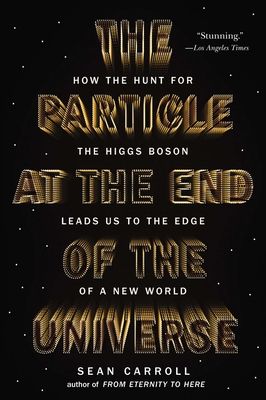 The Particle at the End of the Universe
How the Hunt for the Higgs Boson Leads Us to the Edge of a New World
Plume Books, Paperback, 9780142180303, 353pp.
Publication Date: August 27, 2013
* Individual store prices may vary.
Shop Local
Enter your zip code below to find indies closest to you.
Description
Winner of the prestigious 2013 Royal Society Winton Prize for Science Books
A modern voyage of discovery. Frank Wilczek, Nobel Laureate, author of "The Lightness of Being "
The Higgs boson is one of our era's most fascinating scientific frontiers and the key to understanding why mass exists. The most recent book on the subject, "The God Particle," was a bestseller. Now, Caltech physicist Sean Carroll documents the doorway that is opening after billions of dollars and the efforts of thousands of researchers at the Large Hadron Collider in Switzerland into the mind-boggling world of dark matter. "The Particle at the End of the Universe" has it all: money and politics, jealousy and self-sacrifice, history and cutting-edge physics all grippingly told by a rising star of science writing.
About the Author
SEAN B. CARROLL is professor of molecular biology and genetics and an investigator with the Howard Hughes Medical Institute at the University of Wisconsin. He is the author of The Making of the Fittest and Endless Forms Most Beautiful: The New Science of Evo Devo, a finalist for the Los Angeles Times Book Prize and a best science book of the year in Discover magazine and USA Today.