Mrs. Lincoln's Dressmaker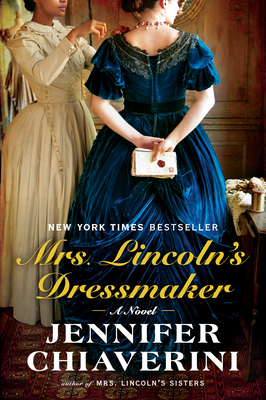 Mrs. Lincoln's Dressmaker
Plume Books, Paperback, 9780142180358, 356pp.
Publication Date: September 24, 2013
* Individual store prices may vary.
Buy at Local Store
Enter your zip code below to purchase from an indie close to you.
or
Buy Here
Description
"New York Times" bestselling author Jennifer Chiaverini's compelling historical novel unveils the private lives of Abraham and Mary Lincoln through the perspective of the First Lady's most trusted confidante and friend, her dressmaker, Elizabeth Keckley.
In a life that spanned nearly a century and witnessed some of the most momentous events in American history, Elizabeth Hobbs Keckley was born a slave. A gifted seamstress, she earned her freedom by the skill of her needle, and won the friendship of First Lady Mary Todd Lincoln by her devotion. A sweeping historical novel, "Mrs. Lincoln's Dressmaker "illuminates the extraordinary relationship the two women shared, beginning in the hallowed halls of the White House during the trials of the Civil War and enduring almost, but not quite, to the end of Mrs. Lincoln's days.
About the Author
Jennifer Chiaverini is the author of the "New York Times" bestselling Elm Creek Quilts series, five collections of quilt projects, and "Mrs. Lincoln s Dressmaker", her most recent historical novel. A graduate of the University of Notre Dame and the University of Chicago, she lives with her husband and sons in Madison, Wisconsin.
Praise For Mrs. Lincoln's Dressmaker…
Normal 0 false false false MicrosoftInternetExplorer4 Praise for Mrs. Lincoln's Dressmaker
"Required Reading . . . The story of First Lady Mary Todd Lincoln and Lizzie Keckley, a former slave who became Mrs. Lincoln's seamstress and confidante. After the president's assassination, Keckley created the Mary Todd Lincoln quilt and also a scandalous memoir. A new spin on the story."  --New York Post
 
"Jennifer Chiaverini imagines the first lady's most private affairs through the eyes of an unlikely confidante." –Harper's Bazaar
 
"Chiaverini has drawn a loving portrait of a complex and gifted woman . . . Mrs. Lincoln's Dressmaker helps to illuminate the path on which her long and remarkable life led her." –St. Louis Post-Dispatch
 
"All the characters are brilliantly written, and readers will enjoy getting to know them. [Chiaverini] brings to life long-forgotten snapshots of America's past with style, grace and respect." –RT Book Reviews
 
"Taking readers through times of war and peace as seen through the eyes of an extraordinary woman, the author brings Civil War Washington to vivid life through her meticulously researched authentic detail. Chiaverini's characters are compelling and accurate; the reader truly feels drawn into the intimate scenes at the White House."           –Library Journal
 
"Nuanced... a welcome historical." –Publishers Weekly 
 
"A compelling fictional account of Keckley's life."  -Bookpage



Praise for Jennifer Chiaverini and the Elm Creek Quilts series

"Chiaverini's themes of love, loss, and healing will resonate with many, and her characters' stories are inspiring." —Publishers Weekly

"Chiaverini has an impressive ability to bring a time and place alive." —Romantic Times Book Reviews

"Emotionally compelling." —Chicago Tribune on Sonoma Rose

"Jennifer Chiaverini has made quite a name for herself with her bestselling Elm Creek Quilts series. From the Civil War to the Roaring Twenties to contemporary settings, these novels have offered suspense, romance, and, at times, in-depth looks into the social, political, and cultural differences that helped shape a nation." —BookPage

"Chiaverini excels at weaving stories and at character development. We can relate to the residents of Elm Creek Valley because they remind us of folks we know—a cousin, an aunt, or a grandmother." —Standard-Examiner (Utah)
st1\:*{behavior:url(#ieooui) } /* Style Definitions */ table.MsoNormalTable {mso-style-name:"Table Normal"; mso-tstyle-rowband-size:0; mso-tstyle-colband-size:0; mso-style-noshow:yes; mso-style-parent:""; mso-padding-alt:0in 5.4pt 0in 5.4pt; mso-para-margin:0in; mso-para-margin-bottom:.0001pt; mso-pagination:widow-orphan; font-size:10.0pt; font-family:"Times New Roman"; mso-ansi-language:#0400; mso-fareast-language:#0400; mso-bidi-language:#0400;}