Becoming Josephine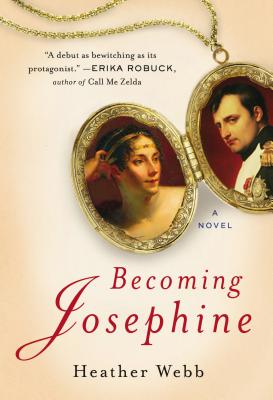 Becoming Josephine
Plume Books, Paperback, 9780142180655, 310pp.
Publication Date: December 31, 2013
* Individual store prices may vary.
Buy Now
or
Shop Local
Enter your zip code below to purchase from an indie close to you.
Description
A sweeping historical debut about the Creole socialite who transformed herself into an empress
Readers are fascinated with the wives of famous men. In "Becoming Josephine, " debut novelist Heather Webb follows Rose Tascher as she sails from her Martinique plantation to Paris, eager to enjoy an elegant life at the royal court. Once there, however, Rose's aristocratic soldier-husband dashes her dreams by abandoning her amid the tumult of the French Revolution. After narrowly escaping death, Rose reinvents herself as Josephine, a beautiful socialite wooed by an awkward suitor--Napoleon Bonaparte.
"A debut as bewitching as its protagonist." --Erika Robuck, author of "Hemingway's Girl "and "Call Me Zelda"
"Vivid and passionate." --Susan Spann, author of The Shinobi Mysteries.
About the Author
Heather Webb is lecturer in the Department of Italian at the University of Cambridge and a fellow of Selwyn College. She specializes in medieval literature and culture with a particular interest in Dante. She is the author of "The Medieval Heart "and a number of articles on Catherine of Siena, Dante, and Giovanni da San Gimignano.
Praise For Becoming Josephine…
"Vivid and passionate." —Susan Spann, author of Claws of the Cat

"Heather Webb's epic novel captivates from its opening in a turbulent plantation society in the Caribbean, to the dramatic rise of one of France's most fascinating women: Josephine Bonaparte. Perfectly balancing history and story, character and setting, detail and pathos, Becoming Josephine marks a debut as bewitching as its protagonist." –Erika Robuck, author of Hemingway's Girl

"With vivid characters and rich historical detail, Heather Webb has portrayed in Josephine a true heroine of great heart, admirable strength, and inspiring courage whose quest is that of women everywhere: to find, and claim, oneself."  --Sherry Jones, bestselling author of The Jewel of the Medina

"A fast-paced, riveting journey, Becoming Josephine captures the volatile mood of one of the most intense periods of history—libertine France, Caribbean slave revolts, the French Revolution and the Napoleonic Wars—from the point of a view of one of its key witnesses, Josephine Bonaparte." –Dana Gynther, author of Crossing on the Paris

"Vivid and passionate, Becoming Josephine captures the fiery spirit of the woman who stole Napoleon's heart and enchanted an empire. –Susan Spann, author of The Shinobi Mysteries

"Spellbinding . . . Heather Webb's novel takes us behind the mask of the Josephine we thought we knew." –Christy English, author of How to Tame a Willful Wife and To Be Queen

"Enchanting prose takes the reader on an unforgettable journey . . . Captivating young Rose springs from the lush beauty of her family's sugar plantation in Martinique to shine in the eighteenth century elegance of Parisian salon society. When France is torn by revolution, not even the blood-bathed terror of imprisonment can break her spirit." –Marci Jefferson, author of The Duchess of Richmond (Thomas Dunne Books, 2014)