Other People's Money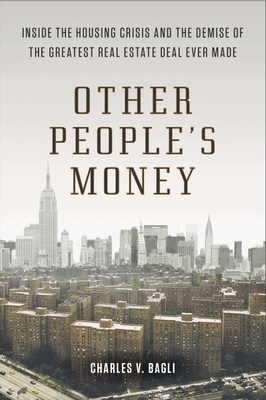 Other People's Money
Inside the Housing Crisis and the Demise of the Greatest Real Estate Deal Ever Made
Plume Books, Paperback, 9780142180716, 402pp.
Publication Date: March 25, 2014
* Individual store prices may vary.
Buy at Local Store
Enter your zip code below to purchase from an indie close to you.
or
Buy Here
Description
A veteran New York Times reporter dissects the most spectacular failure in real estate history
Real estate giant Tishman Speyer and its partner, BlackRock, lost billions of dollars when their much-vaunted purchase of Stuyvesant Town Peter Cooper Village in New York City failed to deliver the expected profits. But how did Tishman Speyer walk away from the deal unscathed, while others took the financial hit and MetLife scored a $3 billion profit?
Illuminating the world of big real estate the way Too Big to Fail did for banks, "Other People's Money" is a riveting account of politics, high finance, and the hubris that ultimately led to the nationwide real estate meltdown.
About the Author
Charles V. Bagli lives with his wife in New Jersey.
Praise For Other People's Money…
Praise for Other People's Money:

"The reader interested in New York real estate history, its moneyed elites, or even the self-contradictory aspects of social investment should find ample material for reflection and enjoyment in Bagli's account."
— Publishers Weekly

"Bagli's sourcing is impressive, and readers will welcome his ability to make arcane investment dealings comprehensible." —Kirkus

"Other People's Money delivers one of the great untold stories of the financial crisis—how greed, arrogance, and the distorted incentives of the commercial real estate market helped drive our nation's economy off a cliff. Told through meticulous reporting of what was arguably the worst real estate deal of all time, in this vitally important book Bagli demonstrates how the well-heeled and well-connected walked away relatively unscathed from the wreckage that they created, leaving a devastated middle class holding the bag yet again."
—Neil Barofsky, New York Times bestselling author of Bailout: How Washington Abandoned Main Street While Rescuing Wall Street

"Charles Bagli does for the politics and economics of urban real estate finance what Jane Jacobs did for urban street life. Bagli's new book, Other People's Money, uses the sale of a major housing complex on Manhattan's Lower East Side, Stuyvesant Town-Peter Cooper Village, to demonstrate how contemporary real estate speculators deploy international finance and local politics to change the housing options of more ordinary city dwellers. Bagli, a talented journalist, makes the street-level impacts of abstract global finance easily understood."
—Elliott Sclar, professor of urban planning, Columbia University

 "Other People's Money is a terrific book. With remarkable textual clarity and a fine-tuned dramatic sensibility, Charles Bagli has recreated the extraordinarily high stakes poker game that was the largest real estate deal in U.S. history. His characters include the biggest real estate players on the planet as well as middle-class residents desperately holding on by their fingertips to the only housing they can afford. A truly epic tale, one that systematically demonstrates the logic (and illogic) of the real estate bubble that set the stage for worldwide recession and that reveals the wild, unforgiving nature of twenty-first-century capitalism. It's a powerful story and a great read."
—Rick Fantasia, coauthor of Hard Work: Remaking the American Labor Movement and professor of sociology at Smith College