Calmer, Easier, Happier Parenting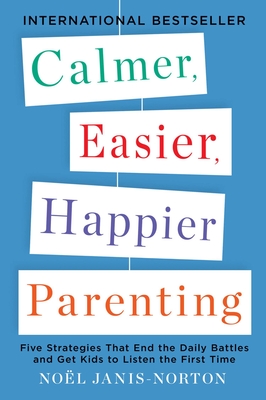 Calmer, Easier, Happier Parenting
Five Strategies That End the Daily Battles and Get Kids to Listen the First Time
Plume Books, Paperback, 9780142196922, 436pp.
Publication Date: April 30, 2013
* Individual store prices may vary.
Buy Now
or
Shop Local
Enter your zip code below to purchase from an indie close to you.
Description
Tired of nagging, pleading, negotiating, or yelling just to get your kids to do the simple things you ask? You don t need to be a Tiger Mom or a Helicopter Parent. There is a better way.
"Calmer, Easier, Happier Parenting" brings the joy back into family life and helps parents to raise confident, responsible adults.
Based on her forty-plus years of experience, behavioral specialist Noel Janis-Norton outlines a clear, step-by-step plan that will help any parent raise a child who is cooperative and considerate, confident and self-reliant. Transform your family life with these five strategies: Descriptive Praise, Preparing for Success, Reflective Listening, Never Ask Twice and Rewards and Consequences. You ll begin to see results almost immediately:
Kids start cooperating the first time you ask
Mornings, bedtimes, mealtimes and homework all become easier
Even very resistant kids start saying yes instead of no
Full of examples and real stories from parents, this book gives you the complete tool-kit to achieve "Calmer, Easier, Happier Parenting.