Horrible Harry and the Locked Closet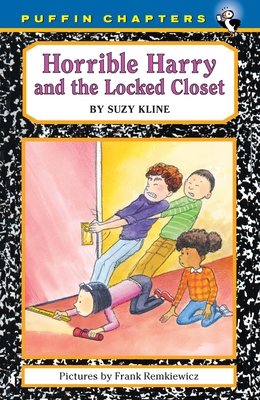 Horrible Harry and the Locked Closet
Puffin Books, Paperback, 9780142404515, 68pp.
Publication Date: October 6, 2005
* Individual store prices may vary.
Buy at Local Store
Enter your zip code below to purchase from an indie close to you.
or
Buy Here
Description
After four days in a row of indoor recess, Miss Mackle's students are bored-until Harry decides to solve the biggest mystery ever in Room 3B There's a locked closet in the classroom that's been sealed off for years, and he wants to know what's inside. So Harry drafts Doug, Song Lee, and the rest of the class to help him investigate. Their search reveals many surprises-from a hidden trapdoor to...eyeballs What secret treasures does the closet hold? Is it something more horrible than even Harry can imagine?
About the Author
Suzy Kline, the author of nineteen previous Horrible Harry books and four books about Song Lee, lives in Willington Connecticut with her husband, Rufus. Suzy and Rufus have been married for thirty-eight years. They met in the state where they both grew up: California. Suzy grew up in Berkeley and Rufus in Sacramento. Suzy graduated from the University of California at Berkeley with a degree in European history. She met Rufus at the Davis campus while attending that campus for a year. They got married and lived in different places, including Canada, before settling into Connecticut, the state they now call home.
Suzy taught in 5th and 6th grades at Shannon Elementary School in Richmond, California for 3 years, and 2nd and 3rd grades at Southwest Elementary School in Torrington, Connecticut for 24 years before retiring this past June. She now enjoys writing full-time and visiting schools and libraries. The couple share their home with two cats, Teeter and Hoag. They have two daughters, Jennifer and Emily, and four grandchildren: Jake, Kenna, Gabby and Saylor. A fifth grandchild is due in September, 2006. Suzy's mother just turned 96. She dedicated her most recent book, Horrible Harry Takes the Cake to her.
Suzy and Rufus enjoy attending UConn football and basketball games, and Suzy uses the UConn library as a reference for her writing facts.
Frank Remkiewicz illustrated the MathStart Books Rabbit's Pajama Party and Just Enough Carrots. He lives in Sarasota, FL. In His Own Words...
"I was the kind of kid who was always reading or drawing. Since I was drawing well before I started school, I always considered art to have seniority over the likes of long division and medieval history. This attitude got me into difficulties more than once. My favorite subjects were horses, cartoons, wildlife, and contraptions that rolled, floated, tooted, or flew. My heroes of the day were illustrators like Bill Peet, Robert Lawson, and Kurt Weiss. They provided me with a screenful of imagery that I'll never forget.
"Winter in kindergarten found us all painting Santas at our tables. Mine came out so good that I was asked to do it over again on a huge piece of brown paper that covered the chalkboard. Santa would be bigger than me. I was excused from the regular stuff, given larger brushes, more paint-and sure enough, here came Santa. This was only the beginning. Other teachers, seeing the mural-sized figure, 'borrowed' me to do the same for first- and second-grade classrooms. Flattered but somewhat embarrassed, I took heart, since these gigs were getting me out of a lot of tedious activities like nap time, scissors, yarn, and flash cards. 'All I ever needed to know, I learned in kindergarten' may be true. Twenty years later I found myself on Madison Avenue at Norcross Greeting Cards-yes, drawing Santa Claus.
"I've always been drawn to the field of humor. Since I'm writing and illustrating my own stories now, I try to make them funny in an outrageous or off-the-wall way. During classroom presentations, I again find myself by the chalkboard in front of the kids. Now we are seeking ways to write and draw those ideas that squeeze their way through the everyday chores of our minds. It's a thrill to watch my own book being read by a group of children, and I like it when they smile. But I love it when they laugh."