Let It Snow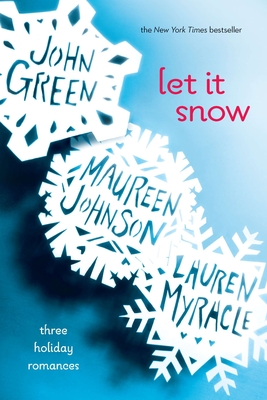 Let It Snow
Three Holiday Romances
Speak, Paperback, 9780142412145, 352pp.
Publication Date: October 2, 2008
* Individual store prices may vary.
Buy Now
or
Shop Local
Enter your zip code below to purchase from an indie close to you.
Description
Three interconnected stories from three bestselling authors: John Green ("Paper Towns," "The Fault in our Stars"), Maureen Johnson ("The Name of the Star"), and Lauren Myracle (The Internet Girls series.)
Major motion picture in the works
A Christmas Eve snowstorm transforms one small town into a romantic haven, the kind you see only in movies. Well, kinda. After all, a cold and wet hike from a stranded train through the middle of nowhere would not normally end with a delicious kiss from a charming stranger. And no one would think that a trip to the Waffle House through four feet of snow would lead to love with an old friend. Or that the way back to true love begins with a painfully early morning shift at Starbucks. Thanks to three of today's bestselling teen authors John Green, Maureen Johnson, and Lauren Myracle the magic of the holidays shines on these hilarious and charming interconnected tales of love, romance, and breathtaking kisses.
A "New York Times" Bestseller
"Tender without being mushy, these carefully crafted stories of believable teen love will leave readers warm inside for the holidays." "School Library Journal"
"Contemporary culture, humorous romantic developments and strong characters enhance this collaborative effort." "Kirkus Reviews.
About the Author
John Green attended a boarding school in Alabama not unlike Alaska's Culver Creek. After graduating from college in 2000, he worked as a chaplain at a children's hospital. His experiences with patients and their families during intense crises solidified his desire to write for teens and inspired him to bring his comic sensibility to a candid novel about the excitement of breaking the rules and the challenge of confronting loss. John now writes for several national magazines, both print and Web-based. He is also a commentator for National Public Radio's afternoon newsmagazine, "All Things Considered," and Chicago's "NPR" affiliate, WBEZ.

Maureen Johnson is the New York Times bestselling author of eleven young adult novels, as well as several coauthored works. She lives in New York City and spends far too much time online.

When Lauren Myracle was thirteen, she spent hours lying on her bed, staring at the cracks on her ceiling and wishing so hard to be magic. She wanted to bend spoons with her mind, talk to her sister telepathically, and rearrange her molecules so she could walk through walls. She wanted fairies to leave gumdrops on her windowsill. She wanted well-known paths to unexpectedly lead to mystical lands and times. She also wished she would grow up to become a writer and that part came true! (Which is not to say the other parts didn t. . . .) She s written many books for tweens and teens, including the bestselling Winnie Years series and the Flower Power series. She lives with her family in Colorado, and she thinks life is the most magical adventure of all.