The Right Nation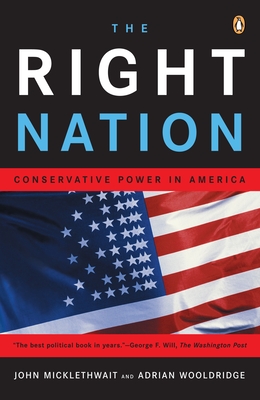 The Right Nation
Conservative Power in America
Penguin Books, Paperback, 9780143035398, 496pp.
Publication Date: May 2005
* Individual store prices may vary.
Buy Now
or
Shop Local
Enter your zip code below to purchase from an indie close to you.
Description
The Right Nation is not "for" liberals, and it's not "for" conservatives. It's for any of us who want to understand one of the most important forces shaping American life. How did America's government become so much more conservative in just a generation? Compared to Europe-or to America under Richard Nixon-even President Howard Dean would preside over a distinctly more conservative nation in many crucial respects: welfare is gone; the death penalty is deeply rooted; abortion is under siege; regulations are being rolled back; the pillars of New Deal liberalism are turning to sand. Conservative positions have not prevailed everywhere, of course, but this book shows us why they've been so successfully advanced over such a broad front: because the battle has been waged by well-organized, shrewd, and committed troops who to some extent have been lucky in their enemies.
John Micklethwait and Adrian Wooldridge, like modern-day Tocquevilles, have the perspective to see this vast subject in the round, unbeholden to forces on either side. They steer The Economist's coverage of the United States and have unrivaled access to resources and-because of the magazine's renown for iconoclasm and analytical rigor-have had open-door access wherever the book's research has led them. And it has led them everywhere: To reckon with the American right, you have to get out there where its centers are and understand the power flow among the brain trusts, the mouthpieces, the organizers, and the foot soldiers. The authors write with wit and skewer whole herds of sacred cows, but they also bring empathy to bear on a subject that sees all too little of it. You won't recognize this America from the far-left's or the far-right's caricatures. Divided into three parts-history, anatomy, and prophecy-The Right Nation comes neither to bury the American conservative movement nor to praise it blindly but to understand it, in all its dimensions, as the most powerful and effective political movement of our age.

Chapter One
FROM KENNEBUNKPORT TO CRAWFORD
Sir Lewis Namier, the great historian of English politics in the age of George III, once remarked that "English history, and especially English parliamentary history, is made by families rather than individuals." The same could be said of American political history, especially in the age of George I and George II. There is no better introduction to the radical transformation of Republicanism in the past generation-from patrician to populist, from Northeastern to Southwestern, from pragmatic to ideological-than the radical transformation of Republicanism's current leading family, the Bushes.
Grandfather Prescott
The Bushes began political life as classic establishment Republicans: WASPs who summered in Kennebunkport, educated their children at boarding schools and the Ivy League and claimed family ties to the British royal family (Queen Elizabeth II is the thirteenth cousin of the first President Bush). George W.'s paternal great-grandfather, Samuel P. Bush, was a steel and railroad executive who became the first president of the National Association of Manufacturers and a founding member of the United States Chamber of Commerce. His maternal great-grandfather, George Herbert Walker, was even grander. The cofounder of W. A. Harriman, Wall Street's oldest private investment bank, Walker's stature was summed up by his twin Manhattan addresses: his office at One Wall Street and his home at One Sutton Place. There was certainly muck beneath this brass: both Walker and Bush had their share of Wall Street shenanigans and cozy government deals, but in the age...
About the Author
Both John Micklethwait and Adrian Wooldridge were educated at Oxford and went on to work for The Economist. John Micklethwait has overseen the magazine's Los Angeles and New York bureaus and is now its U.S. editor. Adrian Wooldridge has served as West Coast correspondent, social-policy correspondent, and management editor, and is currently Washington, D.C., correspondent. Together, they have coauthored three books, The Witch Doctors, A Future Perfect: The Challenge and Hidden Promise of Globalisation, and The Company: A Short History of a Revolutionary Idea.

Adrian Wooldridge is the management editor and Schumpeter columnist of The Economist. He was educated at Balliol College, Oxford, and All Souls College, Oxford, where he held a Prize Fellowship. He was formerly The Economist s Washington bureau chief and Lexington columnist. He is the coauthor, with John Micklethwait, of five books including The Witch Doctors: Making Sense of the Management Gurus; A Future Perfect: The Challenge and Hidden Promise of Globalization; The Company: A Short History of a Revolutionary Idea; and The Right Nation: Conservative Power in America and the author of Measuring the Mind: Education and Psychology in England c.1860-1990.
Praise For The Right Nation…
"A kind of anthropology of the conservative movement, from 1952 to today." —The Wall Street Journal



"The writing is consistently crisp and intelligent, the conclusions balanced…. a work of penetrating insight." —The New York Times



"The Right Nation is smart, witty, and a pleasure to read." —Business Week