The End of Poverty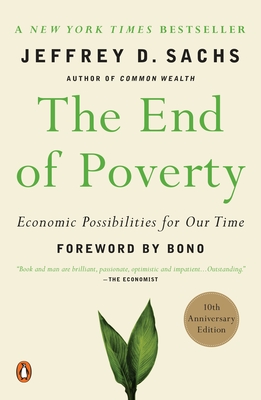 The End of Poverty
Economic Possibilities for Our Time
Penguin Books, Paperback, 9780143036586, 398pp.
Publication Date: February 2006
* Individual store prices may vary.
Buy Now
or
Shop Local
Enter your zip code below to purchase from an indie close to you.
Description
"The landmark exploration of economic prosperity and how the world can escape from extreme poverty for the world's poorest citizens, from one of the world's most renowned economists
"
Hailed by Time" "as one of the world's hundred most influential people, Jeffrey D. Sachs is renowned for his work around the globe advising economies in crisis. Now a classic of its genre, "The End of Poverty "distills more than thirty years of experience to offer a uniquely informed vision of the steps that can transform impoverished countries into prosperous ones. Marrying vivid storytelling with rigorous analysis, Sachs lays out a clear conceptual map of the world economy. Explaining his own work in Bolivia, Russia, India, China, and Africa, he offers an integrated set of solutions to the interwoven economic, political, environmental, and social problems that challenge the world's poorest countries.
Ten years after its initial publication, "The End of Poverty "remains an indispensible and influential work. In this 10th anniversary edition, Sachs presents an extensive new foreword assessing the progress of the past decade, the work that remains to be done, and how each of us can help. He also looks ahead across the next fifteen years to 2030, the United Nations' target date for ending extreme poverty, offering new insights and recommendations.
About the Author
Jeffrey D Sachs is Director of The Earth Institute, Quetelet Professor of Sustainable Development, and Professor of Health Policy and Management at Columbia University. One of the most famous development economists in the world, Prof. Sachs has been Advisor to several governments in Asia, Africa, Latin America, Eastern Europe, and the former Soviet Union. He was named one of the 100 most infl uential people in the world by "Time "magazine in 2004 and 2005. Currently Special Advisor to United Nations Secretary-General Ban Kimoon, he was previously Director of the UN Millennium Project and Special Advisor to UN Secretary-General Kofi Annan on the Millennium Development Goals. He was awarded the Padma Bhushan in 2007. He is author of the bestseller "The End of Poverty "(2006) and "Common Wealth "(2008), and co-author of "Macroeconomics in the Global Economy "(1993), and co-editor of "India in the Era of Economic Reforms "(1999).

Bono is the internationally acclaimed lead singer and writer for U2.
Gavin Friday, one of Bono's oldest friends, is a musician, painter, and film soundtrack composer, formerly of the band the Virgin Prunes.
Directed by Maurice Seezer, the Seezer Ensemble has produced music with Gavin Friday for films including "In the Name of the Father" and "The Boxer,"
Founded in 1986, the Irish Hospice Foundation works to provide better care for people with terminal illness.

Praise For The End of Poverty…
"Book and man are brilliant, passionate, optimistic and impatient... Outstanding." —The Economist   "If there is any one work to put extreme poverty back onto the global agenda, this is it." ——Publishers Weekly, starred review   "Paul Wolfowitz should read Jeffrey Sachs's compelling new book." —Fareed Zakaria, Newsweek   "Professor Sachs has provided a compelling blueprint for eliminating extreme poverty from the world by 2025. Sachs's analysis and proposals are suffused with all the practical experience of his twenty years in the field—working in dozens of countries across the globe to foster economic development and well-being." —George Soros, financier and philanthropist

"Sachs proposes a many-pronged, needs-based attack...that is eminently practical and minimally pipe-dreamy...A solid, reasonable argument in which the dismal science offers a brightening prospect for the world's poor." —Kirkus 



"This is an excellent, understandable book on a critical topic and should be required reading for students and participants in public policy as well as those who doubt the problem of world poverty can be solved." —Mary Whaley, Booklist