The City of Falling Angels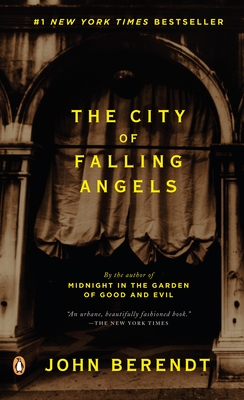 The City of Falling Angels
Penguin Books, Paperback, 9780143036937, 414pp.
Publication Date: September 26, 2006
* Individual store prices may vary.
Buy at Local Store
Enter your zip code below to purchase from an indie close to you.
or
Buy Here
Description
Twelve years ago, "Midnight in the Garden of Good and Evil" exploded into a monumental success, residing a record-breaking four years on the "New York Times" bestseller list (longer than any work of fiction or nonfiction had before) and turning John Berendt into a household name. "The City of Falling Angels" is Berendt's first book since "Midnight," and it immediately reminds one what all the fuss was about. Turning to the magic, mystery, and decadence of Venice, Berendt gradually reveals the truth behind a sensational fire that in 1996 destroyed the historic Fenice opera house. Encountering a rich cast of characters, Berendt tells a tale full of atmosphere and surprise as the stories build, one after the other, ultimately coming together to portray a world as finely drawn as a still-life painting.
About the Author
The son of two writers, John Berendt grew up in Syracuse, New York. He earned a B.A. in English from Harvard University, where he worked on the staff of The Harvard Lampoon. After graduating in 1961, he moved to New York City to pursue a career in publishing. Berendt has written for David Frost and Dick Cavett, was editor of "New York" magazine from 1977 to 1979, and wrote a monthly column for "Esquire" from 1982 to 1994.
Berendt first traveled to Savannah in the early 1980s, when he realized that he could fly there for a three-day weekend for the price of "a paillard of veal served on a bed of wilted radicchio" [p. 24] in one of New York's trendier restaurants. Over the ensuing eight years his visits became more frequent and extended, until he was spending more time in Savannah than in New York.
Part of the appeal, Berendt says, lay in the city's penchant for morbid gossip: "People in Savannah don't say, 'Before leaving the room, Mrs. Jones put on her coat.' Instead, they say, 'Before leaving the room, Mrs. Jones put on the coat that her third husband gave her before he shot himself in the head." ("Entertainment Weekly," 3/11/94, p. 52)
Since the publication and unprecedented success of Midnight in the Garden of Good and Evil, Berendt has become a Savannah celebrity and was even presented with the key to the city. "I took it down to City Hall one night to see if it would work, but it didn't." ("Syracuse Post Standard," 4/5/1994)
"From the Trade Paperback edition."
Praise For The City of Falling Angels…
Funny, insightful, illuminating... [Venice] reveals itself, slowly, discreetly, under Berendt's gentle but persistent prying. (The Boston Globe)

Berendt has given us something uniquely different....Thanks to [his] splendid cityportrait, even those of us far from Venice can marvel. (The Wall Street Journal)