Breaking the Spell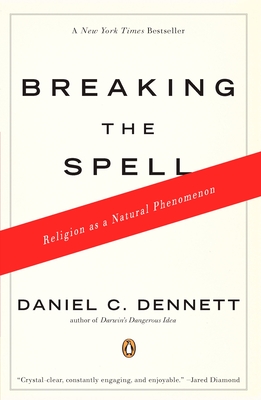 Breaking the Spell
Religion as a Natural Phenomenon
Penguin Books, Paperback, 9780143038337, 448pp.
Publication Date: February 1, 2007
* Individual store prices may vary.
Buy at Local Store
Enter your zip code below to purchase from an indie close to you.
or
Buy Here
Description
For all the thousands of books that have been written about religion, few until this one have attempted to examine it scientifically: to ask whyand howit has shaped so many lives so strongly. Is religion a product of blind evolutionary instinct or rational choice? Is it truly the best way to live a moral life? Ranging through biology, history, and psychology, Daniel C. Dennett charts religion's evolution from wild folk belief to domesticated dogma. Not an antireligious screed but an unblinking look beneath the veil of orthodoxy, Breaking the Spell will be read and debated by believers and skeptics alike.
About the Author
Daniel C. Dennett is University Professor, professor of philosophy, and co-director of the Center for Cognitive Studies at Tufts University. His books include From Bacteria to Bach and Back, Freedom Evolves, Consciousness Explained and Darwin's Dangerous Idea, a finalist for the National Book Award.
Praise For Breaking the Spell…
Ambitious . . . an accessible account of what might be called the natural history of religion. (The New Yorker)

How would a visitor from Mars dispassionately explain human religion? . . . My guess is that the result would be something like this crystal-clear, constantly engaging, and enjoyable new book. (Jared Diamond, Pulitzer Prizewinning author of Guns, Germs, and Steel and Collapse

Rich and rewarding . . . the main business of the book is to give a scientific account of how religion may have developed among creatures such as us. . . . The product of an extremely bright mind. (San Francisco Chronicle)

An elegant, sharp-minded essay on the need to study religion in a dispassionate way. (The Economist)

Penetrating . . . a sharp synthesis of a library of evolutionary, anthropological and psychological research on the origin and spread of religion. (Scientific American)