Trojan Odyssey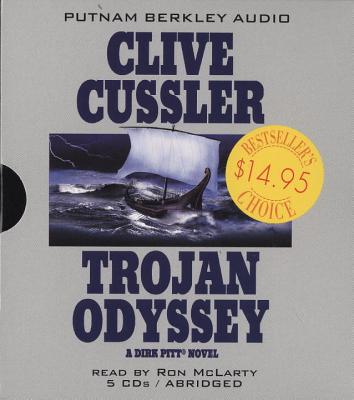 Trojan Odyssey
Penguin Audiobooks, Compact Disc, Abridged, 9780143057468
Publication Date: November 30, 2004
* Individual store prices may vary.
Buy at Local Store
Enter your zip code below to purchase from an indie close to you.
or
Buy Here
Description
"Long hailed as the grand master of adventure fiction, Clive Cussler has continued to astound with the intricate plotting and astonishing set pieces of his novels. Now, with a few surprising twists, he gives us his most audacious work yet." "At the end of Valhalla Rising, Dirk Pitt discovered, to his shock, that he had two grown children he had never known about, twenty-three-year-old fraternal twins born to a woman who he thought had died in an underwater earthquake. Both have inherited his love of the sea: the girl, Summer, a marine biologist; the boy, himself named Dirk, a marine engineer. And they are about to help their father in the adventure of a lifetime." "A brown tide is infesting the ocean off the shore of Nicaragua. The twins are working in a NUMA underwater enclosure, trying to determine its origin, when two startling things happen: Summer discovers an artifact, something strange and beautiful and ancient; and the worst storm in years boils up out of the sky, heading straight for them - and for a luxurious floating resort hotel square in its path." "The peril for everybody concerned is incalculable, and Pitt, Al Giordino, and the rest of the NUMA crew desperately rush to the rescue, but what they find in the storm's wake makes the furies of nature pale in comparison. For there is an all-too-human evil at work in that part of the world, and the tide is only a byproduct of its plan. Soon, the work will be complete - and the world will be a very different place." If Summer's discovery is to be believed, the world as we know it is already a very different place.
About the Author
Clive Cussler is the author or coauthor of twenty-nine books, which have been published in more than forty languages in more than 100 countries. In his life away from the written word, Cussler has searched for lost aircraft, led expeditions to find famous shipwrecks, and garnered an amazing record of success. With his own NUMA crew of volunteers, Cussler has discovered more than sixty lost ships of historic significance, including the long-lost Confederate submarine Hunley. A world-class collector of classic automobiles, Cussler lives in the mountains of Colorado.

Ron McLarty has appeared on Broadway in "That Championship Season, Our Country's Good, " and "Moonchildren." His film credits include "Two Bits, The Postman, " and "The Flamingo Kid." He has starred on television in "Spenser for Hire" and "Cop Rock." Mr. McLarty is also a novelist and an award-winning playwright.