Twelve Years a Slave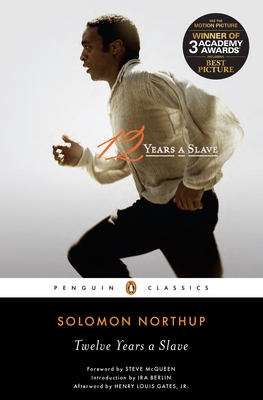 Twelve Years a Slave
Penguin Books, Paperback, 9780143106708, 240pp.
Publication Date: July 31, 2012
* Individual store prices may vary.
Buy Now
or
Shop Local
Enter your zip code below to purchase from an indie close to you.
Description
Now the major motion picture that won the 2014 Academy Award for Best Picture, starringChiwetel Ejiofor, Michael Fassbender, andLupita Nyong o, and directed by Steve McQueen
Perhaps the best written of all the slave narratives, "Twelve Years a Slave"is a harrowing memoir about one of the darkest periods in American history. It recounts how Solomon Northup, born a free man in New York, was lured to Washington, D.C., in 1841 with the promise of fast money, then drugged and beaten and sold into slavery. He spent the next twelve years of his life in captivity on a Louisiana cotton plantation.
After his rescue, Northup published this exceptionally vivid and detailed account of slave life. It became an immediate bestseller and today is recognized for its unusual insight and eloquence as one of the very few portraits of American slavery produced by someone as educated as Solomon Northup, or by someone with the dual perspective of having been both a free man and a slave.
For more than seventy years, Penguin has been the leading publisher of classic literature in the English-speaking world. With more than 1,700titles, Penguin Classics represents a global bookshelf of the best works throughout history and across genres and disciplines. Readers trust theseries to provide authoritative texts enhanced by introductions and notes by distinguished scholars and contemporary authors, as well as up-to-datetranslations by award-winning translators.
About the Author
SOLOMON NORTHUP was born in 1808 and lived as a free man in Saratoga Springs, New York, with his wife and three children until his capture and enslavement in 1841. He was one of very few who were able to regain their freedom after being kidnapped and sold into slavery. After he returned to New York, he published his memoir and became an active abolitionist, lecturing throughout the Northeast about his experiences.

Henry Louis Gates, Jr. (Ph.D.Cambridge), is Alphonse Fletcher University Professor and Director of the W. E. B. Du Bois Institute for African and American Research, Harvard University. He is the author of Life Upon These Shores: Looking at African American History, 1513 2008; Black in Latin America; Tradition and the Black Atlantic: Critical Theory in the African Diaspora; Faces of America; Figures in Black: Words, Signs, and the Racial Self; The Signifying Monkey: A Theory of Afro-American Criticism; Loose Canons: Notes on the Culture Wars; Colored People: A Memoir; The Future of Race with Cornel West; Wonders of the African World; Thirteen Ways of Looking at a Black Man; and The Trials of Phillis Wheatley. His is also the writer, producer, and narrator of PBS documentaries Finding Your Roots; Black in Latin America; Faces of America; African American Lives 1 and 2; Looking for Lincoln; America Beyond the Color Line; and Wonders of the African World. He is the editor of African American National Biography with Evelyn Brooks Higginbotham, and The Dictionary of African Biography with Anthony Appiah; Encyclopedia Africana with Anthony Appiah; and The Bondwoman s Narrative by Hannah Crafts, as well as editor-in-chief of TheRoot.com.

Ira Berlin is Distinguished University Professor at the University of Maryland, College Park.
Praise For Twelve Years a Slave…
"I could not believe that I had never heard of this book. It felt as important as Anne Frank's Diary, only published nearly a hundred years before. . . . The book blew [my] mind: the epic range, the details, the adventure, the horror, and the humanity. . . . I hope my film can play a part in drawing attention to this important book of courage. Solomon's bravery and life deserve nothing less." —Steve McQueen, director of 12 Years a Slave, from the Foreword

"Frightening, gripping and inspiring . . . Northup's story seems almost biblical, structured as it is as a descent and resurrection narrative of a protagonist who, like Christ, was 33 at the time of his abduction. . . . Northup reminds us of the fragile nature of freedom in any human society and the harsh reality that whatever legal boundaries existed between so-called free states and slave states in 1841, no black man, woman or child was permanently safe." —Henry Louis Gates, Jr., from the Afterword
 
"For sheer drama, few accounts of slavery match Solomon Northup's tale of abduction from freedom and forcible enslavement." —Ira Berlin, from the Introduction

"If you think the movie offers a terrible-enough portrait of slavery, please, do read the book. . . . The film is stupendous art, but it owes much to a priceless piece of document. Solomon Northup's memoir is history. . . . His was not simply an extraordinary story, but an account of the life of a great many ordinary people." —The Daily Beast

"An incredible document, amazingly told and structured. Tough, but riveting. The movie of it by Steve McQueen might be the most successful adaptation of a book ever undertaken; text and film complement each other wildly." —Rachel Kushner, The New York Times Book Review

"Northup published a memoir of his 12-year nightmare in 1853, the year after Uncle Tom's Cabin came out, and it was so successful that he went on to participate in two stage adaptations. The book dropped from sight in the 20th century, but the movie tie-in will certainly reestablish its virtually unique status as a work by an educated free man who managed to return from slavery." —The Hollywood Reporter