On Being Different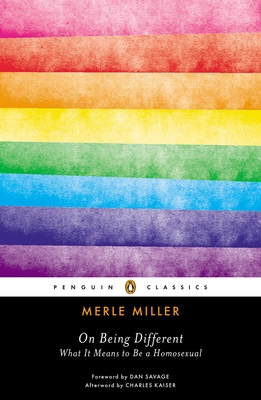 On Being Different
What It Means to Be a Homosexual
Penguin Books, Paperback, 9780143106968, 74pp.
Publication Date: September 25, 2012
* Individual store prices may vary.
Buy Now
or
Shop Local
Enter your zip code below to purchase from an indie close to you.
Description
The groundbreaking work on being homosexual in America available again only from Penguin Classics and with a new foreword by Dan Savage
Originally published in 1971, Merle Miller s"On Being Different"is a pioneering and thought-provoking book about being homosexual in the United States. Just two years after the Stonewall riots, Miller wrote a poignant essay for the"New York Times Magazine"entitled What It Means To Be a Homosexual in response to a homophobic article published in"Harper's Magazine." Described as the most widely read and discussed essay of the decade, it carried the seed that would blossom into"On Being Different" one of the earliest memoirs to affirm the importance of coming out.
For more than sixty-five years, Penguin has been the leading publisher of classic literature in the English-speaking world. With more than 1,500titles, Penguin Classics represents a global bookshelf of the best works throughout history and across genres and disciplines. Readers trust theseries to provide authoritative texts enhanced by introductions and notes by distinguished scholars and contemporary authors, as well as up-to-datetranslations by award-winning translators.
About the Author
Merle Miller was born on May 17, 1919 in Montour, Iowa, and grew up in Marshalltown, Iowa. He attended the University of Iowa and the London School of Economics. He joined the US. Army Air Corps during World War II, where he worked as an editor of Yank. His best-known books are his biographies of three presidents: Plain Speaking: An Oral History of Harry Truman, Lyndon: An Oral Biography, and Ike the Soldier: As They Knew Him. His novels include That Winter, The Sure Thing, Reunion, A Secret Understanding, A Gay and Melancholy Sound, What Happened, Island 49, and A Day in Late September. He also wrote We Dropped the A-Bomb, The Judges and the Judged, Only You, Dick Daring!, about his experiences writing a television pilot for CBS starring Barbara Stanwyck and Jackie Cooper, and On Being Different, an expansion of his 1971 article for the The New York Times Magazine entitled ?What It Means to Be a Homosexual.? He died in 1986.

Charles Kaiser is the author of 1968 in America, one of the most admired popular histories of the music, politics, and culture of the 1960s, and The Gay Metropolis, which was a New York Times Notable Book of the Year and a Lambda Literary Award winner. He lives in New York City.

Dan Savage contributed to Out of the Ordinary from St. Martin's Press.
Praise For On Being Different…
"Forty years after Miller's article and book his eloquent voice is still poignant, still relevant to the ongoing struggle, our struggle for dignity and equal rights."
-Jonathan Ned Katz, Founder, Co-Director, OutHistory.org

"Forty years later, the story Miller tells remains important and necessary to read, not only for both gay and straight readers to understand 'the way it used to be,' but because the issues Miller raised are still being discussed and argued about."
-Nancy Pearl

"Merle Miller's On Being Different is a searing indictment of social hypocrisy, written with a quite but burning passion… This book is not only a valuable historical document about the gay civil rights movement, but it is an American classic because of the beauty it achieves through its unflinchingly honest portrayal of the raw pain of rejection."
-David Carter, author Stonewall: The Riots That Sparked the Gay Revolution

"Without indulging in sensationalism or special pleading but making it clear that he was writing directly from his own experience, [Miller] bridged the gap between the 'straights' and the 'gays' in a way that few recent writers on the subject have done. He also put himself on the line as a well-known writer, who was not afraid to publicly acknowledge his homosexuality."
-Publishers Weekly

"Brilliant, moving, and one is obliged to add, courageous narrative of personal homosexuality."
-James A. Wechsler, columnist