There Once Lived a Woman Who Tried to Kill Her Neighbor's Baby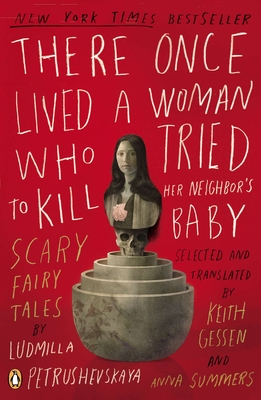 There Once Lived a Woman Who Tried to Kill Her Neighbor's Baby
Scary Fairy Tales
Penguin Books, Paperback, 9780143114666, 206pp.
Publication Date: September 1, 2009
* Individual store prices may vary.
Buy at Local Store
Enter your zip code below to purchase from an indie close to you.
or
Buy Here
Description
"New York Times "Bestseller
Winner of the World Fantasy Award
One of"New York"Magazine's 10 Best Books of the Year
One of NPR's 5 Best Works of Foreign Fiction
The literary event of Halloween: a book of otherworldly power from Russia's preeminent contemporary fiction writer
Vanishings and aparitions, nightmares and twists of fate, mysterious ailments and supernatural interventions haunt these stories by the Russian master Ludmilla Petrushevskaya, heir to the spellbinding tradition of Gogol and Poe. Blending the miraculous with the macabre, and leavened by a mischievous gallows humor, these bewitching tales are like nothing being written in Russia or anywhere else in the world today.
About the Author
Ludmila Petrushevskaya was born in 1938 in Moscow where she still lives. She studied journalism at Moscow University in 1961 and worked for Moscow Television throughout the 1960s. Although a prolific writer of plays and short stories, her work remained unpublished until the mid-1980s and the glasnost of Gorbachev. Her plays have since been widely performed in Russia and all over the world.

Keith Gessen was born in Russia and educated at Harvard. He is a founding editor of n+1 and has written about literature and culture for Dissent, The Nation, The New Yorker, and the New York Review of Books. He is the author of the novel All the Sad Young Literary Men.


Praise For There Once Lived a Woman Who Tried to Kill Her Neighbor's Baby…
One of New York Magazine's Ten Best Books of the Year
One of National Public Radio's Five Best Works of Foreign Fiction

"A revelation-it is like reading late-Tolstoy fables, with all of the master's directness and brutal authority. . . . A wonderful book."
-James Wood, The New Yorker Book Bench's Best Books of the Year

"Arresting . . . Incantatory . . . Timeless and troubling . . . This exquisite collection [is] vital, eerie and freighted with the moral messages that attend all cautionary tales. . . . [Petrushevskaya] is hailed as one of Russia's best living writers. This slim volume shows why. Again and again, in surprisingly few words, her witchy magic foments an unsettling brew of conscience and consequences."
-The New York Times Book Review

"The book could catch fire in your hands and you'd still try to be turning pages. It's giving me nightmares, in the nicest way possible."
-Jessica Crispin, Bookslut

"Thrillingly strange . . . Brilliantly disturbing . . . The fact that Ludmilla Petrushevskaya is Russia's premier writer of fiction today proves that the literary tradition that produced Dostoyevsky, Gogol, and Babel is alive and well."
-Taylor Antrim, The Daily Beast

"What distinguishes the author is her compression of language, her use of detail and her powerful visual sense. . . . Petrushevskaya is certainly a writer of particular gifts."
-Time Out New York

"Fantastic . . . Spooky, compelling . . . Reading [it] was similar to finding a long-lost friend. . . . I would love to summarize every single story and explain its brilliance, but I'd rather you go out, buy this book, and read it for yourself. It's simply one of the best books I've read in quite some time."
-Jessica Ferri, Bookslut

"Macabre, fantastical doses of reality turned inside out by Soviet oppression, a surreal concoction of a society of 'New Robinson Crusoes' shadow-chasing themselves to the far corners of oblivion, deliciously and wildly told."
-Philip Schulz, The New Yorker Book Bench

"Awesomely creepy."
--New York

"The most attention-grabbing title of the year...Undeniably seductive...Her suspenseful writing calls to mind the creepiness of Poe and the psychological acuity (and sly irony) of Chekhov. And when she goes full-on gruesome...well, Stephen King should watch his back."
--More

"As bleak as Beckett, as astringent as witch hazel, as poetic as your finest private passing moments...There Once Lives a Woman Who Tried to Kill Her Neighbor's Baby gave me nightmares. This celebrated Russian author is so disquieting that long after Solzhenitsyn had been published in the Soviet Union, her fiction was banned--even though nothing about it screams 'political' or 'dissident' or anything else. It just screams...If there's any justice, this humble paperback will be greeted as the pinnacle of modern literature that it is -but as Petrushevskaya would be the first to say, to hope for justice is to invite mockery. Better just to keep your head down and write...like this."
--Elle

"Mysteries, nightmares, magic: these stories are the fever dreams of a nation stricken by public disorder and personal anomie. They establish Ludmilla Petrushevskaya as one of the greatest writers in Russia today and a vital force in contemporary world literature."
--KEN KALFUS, author of A Disorder Peculiar to the Country

"Thrilling, delicious, and shuddersome. Lucky readers (I am one) reading Petrushevskaya for the first time will quickly recognize a master of the short story form, a kindred spirit to writers like Angela Carter and Yumiko Kurahashi. This is a feast of a book."
--KELLY LINK, author of Magic for Beginners and Stranger Things Happen

"There is no other writer who can blend the absurd and the real in such a scary, amazing and wonderful way."
--LARA VAPNYAR, author of Ther Are Jews in My House and Memoirs of a Muse

"Ludmilla Petrushevskaya's deceptively simple tales unfold in a shadowy borderland between reality and nightmare, between life and death, where saints and witches walk alongside present-day murderers and drunks, where wintry woods and murky basements become matter-of-fact settings for the end of the world and Christ's second coming. This land is dark, haunted, often terrifying; but every ten or fifteen pages one is suddenly blinded by a bright flash of light-- some small act of humanity, some shy movement of soul, a heartbreaking moment of redemption or revelation--and the memory of that miraculous light lingers for days afterward. This is an extraordinary, powerful collection by a master of the Russian short story."
--OLGA GRUSHIN, author of The Dream Life of Sukhanov