Chasing the Flame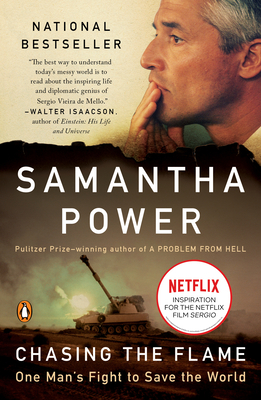 Chasing the Flame
One Man's Fight to Save the World
Penguin Books, Paperback, 9780143114857, 622pp.
Publication Date: December 2, 2008
* Individual store prices may vary.
Buy at Local Store
Enter your zip code below to purchase from an indie close to you.
or
Buy Here
Description
In this perfect match of author and subject, Pulitzer Prize-winner Samantha Power tackles the life of Sergio Vieira de Mello, whose work for the U.N. before his 2003 death in Iraq was emblematic of moral struggle on the global stage. Power has drawn on a staggering breadth of research (including 400 interviews) to show us a heroic figure and the conflicts he waded into, from Cambodia's Khmer Rouge to the slaughter in Bosnia to the war-torn Middle East. The result is a peerless portrait of humanity and pragmatism, as well as a history of our convulsive age.
Praise For Chasing the Flame…
"Surely the life and death of Sergio Vieira de Mello is a good place to begin a serious debate about the proper way to manage world order in the future."
- Francis Fukuyama, The New York Times Book Review

"The strength of the book lies in Power's use of Vieira de Mello's life (and death) as a well-placed window on the international community's successes and failures.... An ambitious effort...[that] succeeds brilliantly"
-James Mann, The Washington Post

"Her book [has] the dramatic quality of a leaked memo. . . . Sergio Vieira de Mello, with his flaws and heroism, represents us at our best and at our most helpless."
-Paul Berman, Slate

"[A] detailed and sympathetic biography . . . thoughtful."
-The Economist

"Power presents a fiercely precise, extraordinary dramatic biography. . . . Strongly argued, lacerating, and utterly human, this invaluable history will be the catalyst for soul searching and debate."
-Booklist

"Deeply and impressively reported."
-Tim Rutten, Los Angeles Times

"Chasing the Flame is an impressively researched book. Power's notes include references to more than 400 interviews, and she cites everything from interoffice emails to Vieira de Mello's high school term papers. Casting a wide net provides Power with memorable details that capture Vieira de Mello's charisma and complexity: a bottle of Johnny Walker hidden in his desk, a plastic bag full of foreign coins for payphones . . . she nimbly excavates colorful artifacts from Vieira de Mello's life."
- San Francisco Chronicle

"A masterful biography."
-Marie Claire

"In meticulous, unsentimental prose, Power portrays Vieira de Mello not as a martyr but as a man who knew too much, a tragic emblem of squandered opportunities in Iraq. . . . In eloquently asking who will keep [the flame] alive, Power proves herself a worthy candidate."
-Vogue

"Chasing the Flame is a brilliantly researched biography about an extraordinary man."
-The Times (UK)

"Power, who combines humanitarian passion and a girlish capacity for hero- worship with analytical rigor, a clear prose style and a gift for narrative, has written a remarkable book. It is not only a gripping story, which takes on the awful fascination of a Greek tragedy as it approaches the catastrophic ending. . . . It also forces the reader to think about some of the most uncomfortable issues in contemporary politics, without offering an easy or simple solution."
-The Guardian (UK)

"A compelling work, culminating in a brilliant and moving reconstruction of Vieira de Mello's doomed last mission in Iraq, and the frantic, disorganized rescue efforts to pull survivors from the bombed-out Canal Hotel as his life seeped away in the rubble."
-The Times Literary Supplement (UK)