While America Aged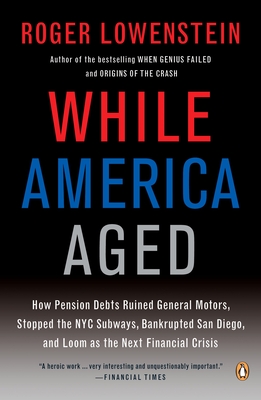 While America Aged
How Pension Debts Ruined General Motors, Stopped the NYC Subways, Bankrupted San Diego, and Loom as the Next Financial
Penguin Books, Paperback, 9780143115380, 274pp.
Publication Date: April 28, 2009
* Individual store prices may vary.
Buy Now
or
Shop Local
Enter your zip code below to purchase from an indie close to you.
Description
The retirement crisis facing America-and the road map for a way out-from "The New York Times" bestselling author of "Origins of the Crash"
In the last several decades, corporations and local governments made ruinous pension and healthcare promises to American workers. With these now coming due, they threaten to destroy twenty-first- century America's hopes for a comfortable retirement. With his trademark narrative panache, bestselling author Roger Lowenstein analyzes three fascinating case studies-General Motors, the New York City subway system, and the city of San Diego-each an object lesson and a compelling historical saga that illuminates how the pension crisis developed. Cumulative retirement deficits are approaching $1 trillion, and Lowenstein warns that these are only the first. Retirement pensions will continue to be a critical issue as the country ages, and While America Aged is the urgent call to action and prescription for reform.
About the Author
Roger Lowenstein is a financial journalist and writer. He graduated from Cornell University and reported for the "Wall Street Journal" for more than a decade. Lowenstein is the author of a number of books and articles, including "The End of Wall Street", "Origins of the Crash: The Great Bubble and Its Undoing", and "Buffett: The Making of an American Capitalist".
Praise For While America Aged…
" Financial journalist Roger Lowenstein uses the stories of three deeply encumbered institutions . . . as examples not only of the way most individual Americans conduct their personal finances, but also of how the country as a whole has long lived beyond its means. . . . Gripping."
-Phillip Longman, The Washington Post