Becoming Jane Eyre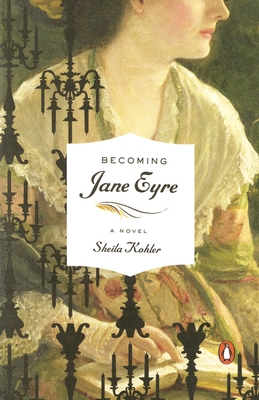 Becoming Jane Eyre
Penguin Books, Paperback, 9780143115977, 234pp.
Publication Date: December 29, 2009
* Individual store prices may vary.
Buy Now
or
Shop Local
Enter your zip code below to purchase from an indie close to you.
Description
Read Sheila Kohler's posts on the Penguin Blog.
A beautifully imagined tale of the Bronte sisters and the writing of "Jane Eyre"
The year is 1846. In a cold parsonage on the gloomy Yorkshire moors, a family seems cursed with disaster. A mother and two children dead. A father sick, without fortune, and hardened by the loss of his two most beloved family members. A son destroyed by alcohol and opiates. And three strong, intelligent young women, reduced to poverty and spinsterhood, with nothing to save them from their fate. Nothing, that is, except their remarkable literary talent.
So unfolds the story of the BrontE sisters. At its center are Charlotte and the writing of "Jane Eyre." Delicately unraveling the connections between one of fiction's most indelible heroines and the remarkable woman who created her, Sheila Kohler's "Becoming Jane Eyre" will appeal to fans of historical fiction and, of course, the millions of readers who adore "Jane Eyre.
About the Author
Sheila Kohler was born in Johannesburg, South Africa. She later lived in Paris for fifteen years, where she married, completed her undergraduate degree in Literature at the Sorbonne, and a graduate degree in Psychology at the Institut Catholique. She moved to the U.S. in 1981 and earned an MFA in Writing at Columbia. She is the author of thirteen works of fiction, including the novels Becoming Jane Eyre and Cracks, which was nominated for the IMPAC Dublin Literary Award and made into a film starring Eva Green. Her work has been featured in the "New York Times, O Magazine" and included in the Best American Short Stories. She has twice won an O'Henry Prize, as well as an Open Fiction Award, a Willa Cather Prize, and a Smart Family Foundation Prize. Kohler teaches at Princeton University and lives in New York City.
Praise For Becoming Jane Eyre…
"Kohler offers an imaginative recreation of the woman who created this once-scandalous, now beloved classic. Sensitive, intelligent, and engaging… A beautiful complement to Brontë's masterpiece."—Kirkus Reviews (starred review)



"Well-written. Kohler gives us a more multidimensional, passionate and temperamental Charlotte than most biographies… connecting the writer with her heroine is intriguing. This novel will likely send fans back to the originals and should inspire those who know 'of' the novels to finally read them."—Publishers Weekly



"Sheila Kohler moves with assured ease between fiction and biography, between the inner life of Charlotte Brontë as she composes Jane Eyre and the comedy of professional rivalry among the three Brontë sisters."—J.M. Coetzee, author of Disgrace and Summertime



"Bravo! I couldn't put it down and finished it in the depths of the night." —Lyndall Gordon, author of Charlotte Brontë: A Passionate Life



"Becoming Jane Eyre is lush and filled with dark sensuality and the tension of unsaid things. The style is quite different from Charlotte Brontë's in Jane Eyre, yet the tone and imagery and spirit remain in the same realm. Jane Eyre is one of my favorite books and Sheila Kohler one of my favorite writers."—Amy Tan, author of The Joy Luck Club