The Midwife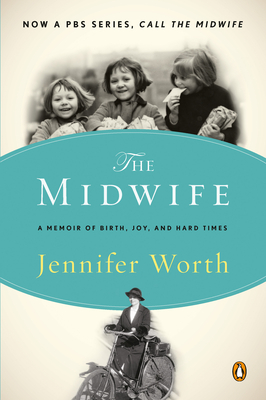 The Midwife
A Memoir of Birth, Joy, and Hard Times
Penguin Books, Paperback, 9780143116233, 340pp.
Publication Date: April 7, 2009
* Individual store prices may vary.
Buy at Local Store
Enter your zip code below to purchase from an indie close to you.
or
Buy Here
Description
An unforgettable true story, "The Midwife" is the basis for the hit PBS drama "Call the Midwife"
At the age of twenty-two, Jennifer Worth leaves her comfortable home to move into a convent and become a midwife in post war London's East End slums. The colorful characters she meets while delivering babies all over London-from the plucky, warm-hearted nuns with whom she lives to the woman with twenty-four children who can't speak English to the prostitutes and dockers of the city's seedier side-illuminate a fascinating time in history. Beautifully written and utterly moving, "The Midwife" will touch the hearts of anyone who is, and everyone who has, a mother.
About the Author
Jennifer Worth trained as a nurse at the Royal Berk-shire Hospital in Reading, and was later ward sister at the Elizabeth Garrett Anderson Hospital in London, then the Marie Curie Hospital, also in London. Music had always been her passion, and in 1973 she left nursing in order to study music intensively, teaching piano and singing for about twenty-five years. Jennifer died in May 2011 after a short illness, leaving her husband, Philip; two daughters; and three grandchildren. Her books have all been bestsellers in England.


Praise For The Midwife…
Emulating James Herriot-except with fewer cows and more cockneys- Worth sketches a warm, amiable portrait of hands-on medical practice.

The author became a midwife at age 22, learning her trade in the 1950s from the nun midwives at the convent of St. Raymund Nonnatus and working among impoverished women in the slums of the London Docklands. Her frank, sometimes graphic memoir describes scores of births, from near-catastrophes to Christmas miracles, and details her burgeoning understanding of the world and the people in it. It's stocked with charming characters: loopy sister Monica Joan, the convent's near-mystic cake-gobbler and mischief-maker; Father Joseph Williamson, focused on delivering prostitutes rather than babies; handyman/poultry salesman/drain cleaner/toffee-apple pusher Frank; and posh Camilla Fortescue-Cholmeley-Browne ("Chummy"), an outrageously warm-hearted debutante who devoted her life to midwifery and missionary work. Worth depicts the rich variety of life in the slums, where loving, doting mothers of nine rubbed elbows with neglectful, broken young women turning tricks to support their husbands' night life. She draws back the veil usually placed over the process of birth, described here as both tribulation and triumph. In birth after birth, as women and midwives labored to bring babies into the world through hours of pain and occasional danger, Worth marveled at the mothers' almost- uniform embrace of their babies. "There must be an inbuilt system of total forgetfulness in a woman," she writes. "Some chemical or hormone that immediately enters the memory part of the brain after delivery, so that there is absolutely no recall of the agony that has gone before. If this were not so, no woman would ever have a second baby."

A charming tale of deliveries and deliverance.
-Kirkus Review

With deep professional knowledge of midwifery and an unerring eye for the details of life in the London slums of the Nineteen Fifties Jennifer Worth has painted a stunningly vivid picture of an era now passed."
-Patrick Taylor MD, author of the New York Times best seller An Irish Country Doctor.

"Readers will fall in love with The Midwife, a richly drawn chronicle of midwifery in the 1950's, in London's East end. Recounted with great tenderness and poignancy, Jennifer Worth's story is an affirmation of life during the best and worst of times, and a celebration of the relentless drama and awe-inspiring magic of birth."
-Elizabeth Brundage, author of Somebody Else's Daughter

"Jennifer Worth's memories of her years as a midwife in the East End were at once hilariously horrible and tremendously moving. She recounts a period when birth was both more frightening and more personal. Part of me wishes that my obstetrician had shown up at my house on a rickety old bicycle, and treated me both to a delivery and a hot cup of tea."
- Ayelet Waldman, author of Love and Other Impossible Pursuits

Worth gained her midwife training in the 1950s among an Anglican order of nuns dedicated to ensuring safer childbirth for the poor living amid the Docklands slums on the East End of London. Her engaging memoir retraces those early years caring for the indigent and unfortunate during the pinched postwar era in London, when health care was nearly nonexistent, antibiotics brand-new, sanitary facilities rare, contraception unreliable and families with 13 or more children the norm. Working alongside the trained nurses and midwives of St. Raymund Nonnatus (a pseudonym she's given the place), Worth made frequent visits to the tenements that housed the dock workers and their families, often in the dead of night on her bicycle. Her well-polished anecdotes are teeming with character detail of some of the more memorable nurses she worked with, such as the six- foot-two Camilla Fortescue-Cholmeley-Browne, called Chummy, who renounced her genteel upbringing to become a nurse, or the dotty old Sister Monica Joan, who fancied cakes immoderately. Patients included Molly, only 19 and already trapped in poverty and degradation with several children and an abusive husband; Mrs. Conchita Warren, who was delivering her 24th baby; or the birdlike vagrant, Mrs. Jenkins, whose children were taken away from her when she entered the workhouse.
- Publishers Weekly