Culture Is Our Weapon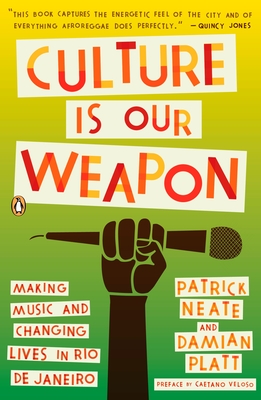 Culture Is Our Weapon
Making Music and Changing Lives in Rio de Janeiro
Penguin Books, Paperback, 9780143116745, 205pp.
Publication Date: February 23, 2010
* Individual store prices may vary.
Buy Now
or
Shop Local
Enter your zip code below to purchase from an indie close to you.
Description
An inspiring mission to rescue young people from drugs and violence with music
At a time when interest in Brazilian culture has reached an all-time high, and the stories of one person's ability to improve the lives of others has captured so many hearts, this unique book takes readers to the frontlines of a battle raging over control of the nation's poorest areas. "Culture Is Our Weapon" tells the story of Grupo Cultural AfroReggae, a Rio-based organization employing music and an appreciation for black culture to inspire residents of the favelas, or shantytowns, to resist the drugs that are ruining their neighborhoods. This is an inspiring look at an artistic explosion and the best and worst of Brazilian society.
About the Author
Patrick Neate is the author of four novels. His book Where You're At: Notes from the Frontline of a Hip Hop Planet won the prestigious National Book Critics Circle prize for criticism in the US in 2005.



Caetano Veloso was born in 1942 in Santo Amaro da Purificaao, Bahia, Brazil. He lives in Bahia and Rio de Janeiro.
Praise For Culture Is Our Weapon…
"Examines the music and cultural tumult of the Brazilian favelas with a clear eye. ... Neate and Platt bring a deeply curious outsider's perspective to Rio, and the book moves easily from cocktails on elite balconies to government offices to the dangerous favela streets. ... [They] tackle complex political issues without it ever feeling like they're delivering a lecture, partly because they weave in the voices of people involved."
-Los Angeles Times

"What makes the AfroReggae story compelling is the blend of idealism and realism that Jose Junior, the founder, must have to work in his environment: the idealist view that culture can actually provide the first rung or two on a ladder that will help kids escape the violence and poverty of these slums, and the realistic assessment of what needs to be done to make that happen."
-John Schaefer, WNYC Music Hub

"The stories depicted here are suspenseful and horrifying, but more importantly, inspirational, as one group strives to bring peace to what is otherwise a war zone."
-Weekly Dig (Boston)

"Neate and Platt do an excellent job of capturing the captivating energy and many conflicting emotions of the favela communities through first-person accounts."
-Daily Texan

"As the book weaves through both the culturally rich and violent realities of Brazil, the reader in turn oscillates between admiration and absolute horror. ... [Culture Is Our Weapon] offers a rich background on the corrupt, political reality in the country-it explores the way in which music in general has played a role in Brazilian's lives and delves into the individual lives of favela residents, giving a unique perspective on the way social classes function."
-Columbia Spectator

"Platt and Neate ask people internationally to think about the images and stories we hear about Brazil, not just the poverty and oppression, but the stories that are often hidden beneath the surface. Those stories are of the social revolutions that the people of these communities are creating, and the ways they are finding success."
-Daily Vanguard

"The work of AfroReggae of changing a community through the arts is inspirational. ... When I finished this book there is no doubt in my mind that the arts can save a community."
-Reading in Color

"An inspiring book about the good things happening through Grupo Cultural AfreReggae. ... [A] tale of the people of Rio and the power of music to celebrate ethnic diversity, level social inequality, and provide hope for the oppressed community."
-Mom Most Traveled