Rat Girl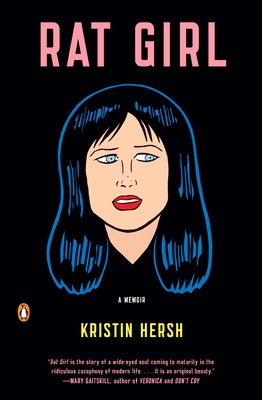 Rat Girl
Penguin Books, Paperback, 9780143117391, 319pp.
Publication Date: August 31, 2010
* Individual store prices may vary.
Buy at Local Store
Enter your zip code below to purchase from an indie close to you.
or
Buy Here
Description
The founder of a cult rock band shares her outrageous tale of growing up much faster than planned.
In 1985, Kristin Hersh was just starting to find her place in the world. After leaving home at the age of fifteen, the precocious child of unconventional hippies had enrolled in college while her band, Throwing Muses, was getting off the ground amid rumors of a major label deal. Then everything changed: she was diagnosed with bipolar disorder and found herself in an emotional tailspin; she started medication, but then discovered she was pregnant. An intensely personal and moving account of that pivotal year, "Rat Girl" is sure to be greeted eagerly by Hersh's many fans.
About the Author
Kristin Hersh is a founding member of the bands Throwing Muses and 50 Foot Wave. Her memoir Rat Girl was widely praised by publications from the New York Times to Rolling Stone, which named it one of the top ten best rock memoirs ever written.
Praise For Rat Girl…
 


"Rat Girl is the story of a wide-eyed soul coming to maturity in the ridiculous cacophony of modern life. Although it is supposedly about what we call, for lack of a better term, 'manic depression,' it has nearly no interest in such grim diagnostic thinking. It is instead awestruck - by music, feeling, perception, wild animals, mystery, dreams, 'the gorgeous and terrible things that live in your house.' It is an original beauty." – Mary Gaitskill, author of Veronica and Don't Cry




"Sensitive and emotionally raw… it is also wildly funny." – Rob Sheffield, New York Times Book Review 

"Funny, freaky, fidgety, Hersh's memoir is the book a fan didn't dare hope for: a beacon in a dark field, illuminating the mysterious and the mundane. Beautifully, honestly, written and as close as you will ever get to being in a Throwing Muses song." – Wesley Stace, author of Misfortune and By George


#8 on Rolling Stone's list of The 25 Greatest Rock Memoirs of All Time

"Her narrative voice is warm, friendly and surprisingly funny. Deep down it's a story about messed-up kids finding one other, starting a band, and accidentally scrounging up an audience of similarly messed-up kids. It belongs on the shelf next to Michael Azerrad's classic Our Band Could Be Your Life." – Rolling Stone


"Ultra-vivid writing and intense honesty is what you'd expect from Kristin Hersh, one of America's finest songwriters. But Rat Girl is also a startlingly funny and touching memoir of her mid-Eighties moment as the bi- polar, pregnant, intermittently homeless frontwoman of a rising indie-rock band. It's a gripping journey into mental chaos and out the other side." – Simon Reynolds, author of Rip It Up and Start Again: Postpunk 1978-84