The Quickening Maze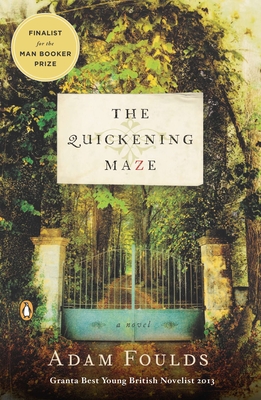 The Quickening Maze
Penguin Books, Paperback, 9780143117797, 258pp.
Publication Date: June 29, 2010
* Individual store prices may vary.
Buy Now
or
Shop Local
Enter your zip code below to purchase from an indie close to you.
Description
It has been a while since I have read a book as richly sown with beauty . . . A remarkable work, remarkable for the precision and vitality of its perceptions and for the successful intricacy of its prose. James Wood, "The New Yorker"
A visionary novel by "one of the most talented writers of his generation" "The Times" Literary Supplement
Shortlisted for the Man Booker Prize
Based on real events, "The Quickening Maze" won over UK critics and readers alike with its rapturous prose and vivid exploration of poetry and madness. Historically accurate yet brilliantly imagined, this is the debut publication of this elegant and riveting novel in the United States.
In 1837, after years of struggling with alcoholism and depression, the great nature poet John Clare finds himself in High Beach a mental institution located in Epping Forest on the outskirts of London. It is not long before another famed writer, the young Alfred Tennyson, moves nearby and grows entwined in the catastrophic schemes of the hospital's owner, the peculiar Dr. Matthew Allen, his lonely adolescent daughter, and a coterie of mysterious local characters. With lyrical grace, the cloistered world of High Beach and its residents are brought richly to life in this enchanting book.
About the Author
Adam Foulds was named Sunday Times Young Writer of the Year in 2008. He is the author of the novel The Truth About These Strange Times, as well as the narrative poem The Broken Word, which won the John Llewellyn Rhys Prize the 2008 Costa Poetry Award. He lives in London.
Praise For The Quickening Maze…
"Adam Foulds is one of the best British writers to emerge in the past decade. His story of [the poet] John Clare's incarceration in a Victorian lunatic asylum is subtle, highly intelligent, and rich in its understanding of the mad, the sane, and that large overlapping category in between."
-Julian Barnes, author of Nothing to Be Frightened Of and Flaubert's Parrot

"What a haunting, fascinating book this is. Foulds leads us deep into a mysterious maze of history, where the demarcations of sanity are blurred, reality competes with dreams, and the truth is what any character imagines it to be."
-Joanna Scott, author of Follow Me and Arrogance

"A remarkable and passionate book. The worlds it creates, the forest and the asylum, and the characters that inhabit them are drawn with a wonderfully strange poetic intensity. It is a wholly original vision, impossible to forget."
-Patrick McGrath, author of Trauma and Asylum

"Tender and scrupulous...what I love most about THE QUICKENING MAZE is its quietness, the silence that makes you lean in until you hear its lovely song."
-Nadeem Aslam, author of The Wasted Vigil

"Exceptional...like a lucid dream: earthy and true, but shifting, metamorphic-the word-perfect fruit of a poet's sharp eye and novelist's limber reach."
-The Times (London)

"[Foulds is] one of the most interesting and talented writers of his generation."
-The Times Literary Supplement (London)

"Impressive...simultaneously poised and flowing in its urgency."
-The Guardian (London)