The Track of Sand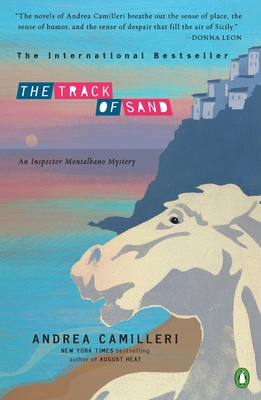 The Track of Sand
Penguin Books, Paperback, 9780143117933, 264pp.
Publication Date: October 26, 2010
* Individual store prices may vary.
Buy at Local Store
Enter your zip code below to purchase from an indie close to you.
or
Buy Here
Description
"The novels of Andrea Camilleri breathe out the sense of place, the sense of humor, and the sense of despair that fill the air of Sicily."
-Donna Leon
Inspector Salvatore Montalbano wakes from strange dreams to find a gruesomely bludgeoned horse carcass in front of his seaside home. When his men came to investigate, the carcass has disappeared, leaving only a trail in the sand. Then his home is ransacked and the inspector is certain that the crimes are linked. As he negotiates both the glittering underworld of horseracing and the Mafia's connection to it, Montalbano is aided by his illiterate housekeeper, Adelina, and a Proustian memory of "linguate fritte." Longtime fans and new readers alike will be charmed by Montalbano's blend of unorthodox methods, melancholy self-reflection, and love of good food.
About the Author
Ne en 1925 presd'Agrigente, en Sicile, metteur en scene de theatre, realisateur de television et scenariste, Andrea Camilleris'est fait connaitre tardivement comme romancier, mais avec un succes foudroyant. Auteur culte de la serie des Montalbano, il ecrit parallelement des romans inspires par des documents d'archives.Chez Fayard sont parus"La Concession du telephone" (1999), "La Saison de la chasse" (2001, Prix de traduction Amedee Pichot), "Un filet de fumee" (2002), "Le Roi Zosimo" (2003), "Le Cours des choses" (2005), "La Prise de Makale" (2006), "Prive de titre" (2007), "Les Enquetes du commissaire Collura" (2008), "Petits" "Recits au jour le jour" (2008), "La Couleur du soleil" (2008), "Vous ne savez pas" (2009), "Le Pasteur et ses ouailles" (2009), "Maruzza Musumeci" (2009), "Le Grelot" (2010), "Le Ciel vole" (2010), "Un samedi entre amis" (2011), "Le Garde-barriere ("2012), "Le Coup de filet" (2012), "Le Neveu du Negus" (2013) et "Grand Cirque Taddei" (2014).

Stephen Sartarelli has translated widely from French and Italian, most recently works by Andrea Camilleri and Gabriele D Annunzio. His translations have won numerous prizes, including the Raiziss-De Palchi Award of the Academy of American Poets for" Songbook: Selected Poems of Umberto Saba" and the John Florio Award of the UK Society of Authors for "Prince of the Clouds" by Gianni Riotta.
Praise For The Track of Sand…
"This series is distinguished by Camilleri's remarkable feel for tragicomedy, expertly mixing light and dark in the course of producing novels that are both comforting and disturbing."
-Booklist