A Christmas Blizzard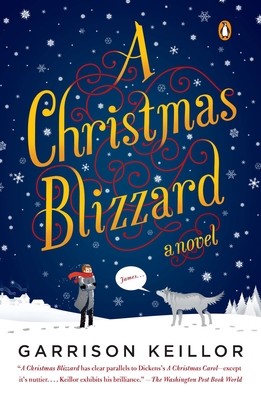 A Christmas Blizzard
Penguin Books, Paperback, 9780143119883, 181pp.
Publication Date: October 25, 2011
* Individual store prices may vary.
Buy at Local Store
Enter your zip code below to purchase from an indie close to you.
or
Buy Here
Description
The inimitable Garrison Keillor spins "a Christmas tale that makes Dickens seem unimaginative by comparison" ("Charlotte Creative Loafing")
Snow is falling all across the Midwest as James Sparrow, a country- bumpkin-turned-energy-drink-tycoon, and his wife awaken in their sky- rise apartment overlooking Chicago. Even down with the stomach bug, Mrs. Sparrow yearns to see "The Nutcracker" while James yearns only to escape-the faux-cheer, the bitter cold, the whole Christmas season. An urgent phone call from his hometown of Looseleaf, North Dakota, sends James into the midst of his lunatic relatives and a historic blizzard. As he hunkers weather the storm, the electricity goes out and James is visited by a parade of figures who deliver him an epiphany worthy of the season, just in time to receive Mrs. Sparrow's wonderful Christmas gift. Garrison Keillor's holiday farce is the perfect gift for the millions of fans who tune into "A Prairie Home Companion" every week.
About the Author
Garrison Keillor has hosted the comedy/variety radio show A Prairie Home Companion since 1974. His many books include Lake Wobegon Days, Leaving Home, Happy to Be Here, The Book of Guys, Homegrown Democrat, Lake Wobegon Summer 1956, Love Me, Wobegon Boy, Pontoon, Liberty, and Pilgrims. Audio CDs and cassettes of compilations of A Prairie Home Companion and Keillor's readings of his books have sold in the millions. He wrote the script for and starred in the 2006 motion picture A Prairie Home Companion, the final film directed by Robert Altman.