The Age of Doubt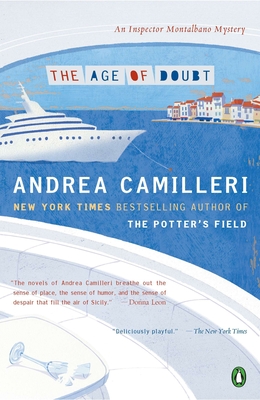 The Age of Doubt
Penguin Books, Paperback, 9780143120926, 274pp.
Publication Date: May 29, 2012
* Individual store prices may vary.
Buy at Local Store
Enter your zip code below to purchase from an indie close to you.
or
Buy Here
Description
From the "New York Times" bestselling author of "The Potter's Field, "winner of the Crime Writers' Association's International Dagger Award and longlisted for the IMPAC Dublin Literary Prize
With their dark sophistication and dry humor, Andrea Camilleri's hugely popular Sicilian crime novels continue to win more and more fans in America. The day after a storm, Inspector Montalbano encounters a strange woman who expresses interest in a certain yacht scheduled to dock that afternoon. Not long after she's gone, the yacht's crew reports finding a disfigured corpse. Also at anchor is a luxury vessel with a somewhat shady crew. Both boats will have to stay in VigAta until the investigation is over and, based on information from the woman, Montalbano begins to think the occupants of the yacht might know more about the man's death than they're letting on.
About the Author
Andrea Camilleri's Montalbano mystery series, bestsellers in Italy and Germany, has been adapted for Italian television and translated into German, French, Spanish, Portuguese, Greek, Japanese, Dutch, and Swedish. He lives in Rome.

Stephen Sartarelli lives in upstate New York.
Praise For The Age of Doubt…
Praise for Andrea Camilleri:
Normal 0 false false false MicrosoftInternetExplorer4 st1\:*{behavior:url(#ieooui) } /* Style Definitions */ table.MsoNormalTable {mso-style-name:"Table Normal"; mso-tstyle-rowband-size:0; mso-tstyle-colband-size:0; mso-style-noshow:yes; mso-style-parent:""; mso-padding-alt:0in 5.4pt 0in 5.4pt; mso-para-margin:0in; mso-para-margin-bottom:.0001pt; mso-pagination:widow-orphan; font-size:10.0pt; font-family:"Times New Roman"; mso-ansi-language:#0400; mso-fareast-language:#0400; mso-bidi-language:#0400;}
 
"There's a deliciously playful quality to the mysteries Andrea Camilleri writes about a lusty Sicilian police detective named Salvo Montalbano." –New York Times Book Review
 
"The books are full of sharp, precise characterizations and with subplots that make Montalbano endearingly human… Like the antipasti that Montalbano contentedly consumes, the stories are light and easily consumed, leaving one eager for the next course."—New York Journal of Books
 
"This series is distinguished by Camilleri's remarkable feel for tragicomedy, expertly mixing light and dark in the course of producing novels that are both comforting and disturbing." –Booklist
 
 
"The novels of Andrea Camilleri breathe out the sense of place, the sense of humor, and the sense of despair that fills the air of Sicily."—Donna Leon
 
"Hailing from the land of Umberto Eco and La Cosa Nostra, Montalbano can discuss a pointy-headed book like Western Attitudes Towards Death as unflinchingly as he can pore over crime-scene snuff photos. He throws together an extemporaneous lunch…as gracefully as he dodges advances from attractive women."—Los Angeles Times
 
 
"In Sicily, where people do things as they please, Inspector Montalbano is a bona fide folk hero." –The New York Times Book Review
 
 
"Camilleri as crafty and charming a writer as his protagonist is an investigator." –The Washington Post
 
 
"Montalbano is a delightful creation, an honest man on Sicily's mean streets." –USA Today
 
 
"Camilleri can do a character's whole backstory in half a paragraph." –The New Yorker
 
"…the humor and humanity of Montalbano make him an equally winning lead character." –Publishers Weekly