White Heat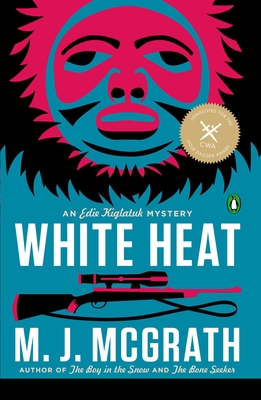 White Heat
An Edie Kiglatuk Mystery
Penguin Books, Paperback, 9780143120964, 380pp.
Publication Date: July 31, 2012
* Individual store prices may vary.
Buy at Local Store
Enter your zip code below to purchase from an indie close to you.
or
Buy Here
Description
Longlisted for the CWA Gold Dagger Award, "White Heat" is the first book in the gripping Edie Kiglatuk Mystery Series, with "an Arctic setting so real it'll give you frostbite" (Dana Stabenow, author of "A Cold Day for Murder")
Half Inuit and half outsider, Edie Kiglatuk is the best guide in her corner of the Arctic. But as a woman, she gets only grudging respect from her community's Council of Elders. While Edie is leading two tourists on a hunting expedition, one of them is shot and killed. The Council wants to call it an accident, but Edie and police sergeant Derek Palliser suspect otherwise. When the other tourist disappears, Edie sets off into the far reaches of the tundra for answers.
A stunning debut novel, "White Heat" launches a formidable new series set amidst an unforgiving landscape of ice and rock, of spirit ancestors, and never-rotting bones.
About the Author
M. J. McGrath is an award-winning journalist and the author of several books, including The Long Exile: A Tale of Inuit Betrayal and the novels White Heat and The Boy in the Snow, both part of the Edie Kiglatuk Mystery series. She was awarded the John Llewellyn Rhys Prize for best Commonwealth writer under thirty-five and currently lives in London. McGrath's story Edie Kiglatuk's Christmas will be available as a Penguin E-Special in October 2013.
Praise For White Heat…
"M.J. McGrath opens a window onto a fascinating and disappearing culture in this haunting mystery."
-Parade Magazine "12 Great Summer Books"

"[McGrath] weaves a strong strand of whodunit into a broader story about life in a 21st-century community on Canada's Ellesmere Island. The plot is wholly satisfying, and McGrath's portrait of a culture that uneasily blends yesterday and today is engrossing on its own merits. The Arctic is a big place — big enough, one hopes, for Edie Kiglatuk to find another mystery that needs solving between warm bowls of seal blood soup fresh from the microwave."
-Associated Press

"In a gripping debut novel, McGrath (who has written nonfiction as Melanie McGrath) transports the reader to a land of almost incomprehensible cold and an unfamiliar but fascinating culture, taking on issues of climate change, energy exploration, local politics, and drug and alcohol abuse. Edie, a fiercely independent woman in a male-dominated milieu, is sure to win fans. Expect great things from this series."
-Booklist (starred review)

"An arctic setting so real it'll give you frostbite."
-Dana Stabenow, author of A Cold Day for Murder and Though Not Dead: A Shugak Nov

"A solid thriller…A picture soon emerges that includes a fight for precious natural resources and secrets that stretch back generations. McGrath captures the frigid landscape beautifully, and her heroine personifies the tension between the Inuit and qalunaat ways of life."
-Publishers Weekly

"This debut novel encompasses the hard, otherworldly beauty of the far north and the rapaciousness of energy moguls determined to exploit the area's natural resources…[McGrath] skillfully describes the destabilizing effects of global warming, on both the landscape and the lives of the people settled there."
-The New Yorker

"White Heat is a blazing star of a thriller: vivid, tightly-sprung, and satisfying on all levels. Encountering Edie Kiglatuk, the toughest, smartest Arctic heroine since Miss Smilla, left me with that rare feeling of privilege you get on meeting extraordinary people in real life. A huge achievement."
-Liz Jensen, bestselling author of The Rapture

"M. J. McGrath's White Heat pulls you along like a steel cable, inexorably welding you to the characters and a place that you'll never forget."
-Craig Johnson, New York Times bestselling author of Hell Is Empty

"With a poet's confidence McGrath makes an unforgiving Arctic landscape, and then gives us a smart and strong yet vulnerable survivor in Edie Kiglatuk. You root for Edie. You can't do otherwise. In her risk-all pursuit of truth resides the best in all of us."
-Kirk Russell, author of Redback: A John Marquez Crime Novel