Grow Up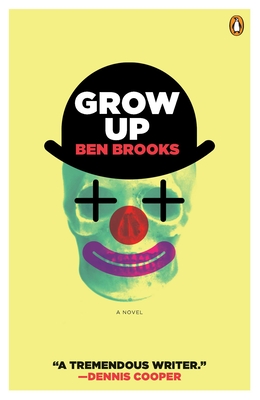 Grow Up
Penguin Books, Paperback, 9780143121091, 260pp.
Publication Date: April 24, 2012
* Individual store prices may vary.
Buy at Local Store
Enter your zip code below to purchase from an indie close to you.
or
Buy Here
Description
In this bawdy, raucous, and unabashedly frank novel, youth is certainly not wasted on the young
Hailed as "one of the most hilarious and well-observed accounts of teenage debauchery you are ever likely to read" by the trendsetting British lifestyle magazine "Dazed & Confused," Ben Brooks's "Grow Up" is a shocking, stylish, and very modern coming-of-age story.
As Jasper J. Wolf careens through high school, his list of to-dos includes: get high with friends, seduce the hottest girl in school, and, last but not least, expose his stepfather as a murderer. But as growing up soon teaches him, what he wants and what he gets are often wildly different--and decidedly unexpected.
About the Author
Ben Brooks was born in 1992. AN ISLAND OF FIFTY is his third novel. He currently lives in Gloucester, England.
Praise For Grow Up…
Normal 0 false false false MicrosoftInternetExplorer4 /* Style Definitions */ table.MsoNormalTable {mso-style-name:"Table Normal"; mso-tstyle-rowband-size:0; mso-tstyle-colband-size:0; mso-style-noshow:yes; mso-style-parent:""; mso-padding-alt:0in 5.4pt 0in 5.4pt; mso-para-margin:0in; mso-para-margin-bottom:.0001pt; mso-pagination:widow-orphan; font-size:10.0pt; font-family:"Times New Roman"; mso-ansi-language:#0400; mso-fareast-language:#0400; mso-bidi-language:#0400;} "An amusing, sometimes ironic look at one fairly feckless lad's coming-of-age…What comes as a surprise is the wonderfully poetic voice Brooks has given his protagonist…Eat your heart out, Holden Caufield [sic]."

-Michael Cart, Booklist

 
"Eminently readable… Hyper–self-aware…Filled with black humor and fleeting tenderness… Its protagonist, Jasper J. Wolf, imagines himself as a prettier Holden Caulfield, but the end game reveals that the self-reflective young writer is more along the lines of a John Hughes hero, albeit with volumes more narcotics…There's a timeless if caustic quality to [narrator] Jasper's minimalist rants [and] there's an unexpected humor even to the murkiest sequences. Brooks' work feels richer [than] the transgressive teen drama Skins…as it explores generational angst and the blue-black damage of adolescence." 

-Kirkus Reviews

"Engaging, funny and sharply-written. I loved how [Grow Up] manages to be both brutally uncompromising and gloriously warm-hearted."

-Chris Killen, author of The Bird Room

"Ben Brooks is a magical imp who pumps out dark nuggets of poetry and makes you snort with laughter."

-Noel Fielding, co-creator of The Mighty Boosh

"Sickeningly good. So confident, so stylish. An unacceptably witty and original debut."

-Tim Key

"Liquid Gold."

-The Observer (U.K.)

"I thought [Grow Up] was amazing. One of the most hilarious and well observed accounts of teenage debauchery you are ever likely to read….Alarmingly good.  Jasper is great fun, naively perceptive, often LOL-funny company.  A totally convincing portrait of being a wayward teenager now . . . It's so pertinent it actually kind of trips you out."

-Dazed & Confused

"Navigates the travails of school and beyond with a quick wit."

-Independent on Sunday (U.K.)

"A sharp and witty exploration of adolescent life…Grow Up is one part serious, the rest is simply laugh-out loud funny….{Brooks] is able to deal with issues such as self-harm and suicide with a tenderness and sensitivity that one would have thought beyond his years….contagiously funny, well-written and no doubt marks the start of a promising career for a talented young writer."


-The Scotsman (U.K.)

"Brilliantly captures 21st-century youth.  Hilarious."

-Times (U.K.)

"I couldn't stop reading Grow Up."

-www.Volume1Brooklyn.com

"Funny from unexpected places."

-www.3amMagazine.com

"A dirty, dirty book. It is a wonderfully filthy book."
-www.Areadinglife.com

"A vicious, often hilarious—and hilariously blunt—microcosm of contemporary, ketamine-addicted British youth."
-blacklisted

"An undeniably fun read, thanks to the leanness of its prose and its sense of humour, which is as sharp as it is affected. This is Oscar Wilde with a Tumblr account, or Martin Amis remixed by Skrillex."
-www.TheStar.com