Cocktail Hour Under the Tree of Forgetfulness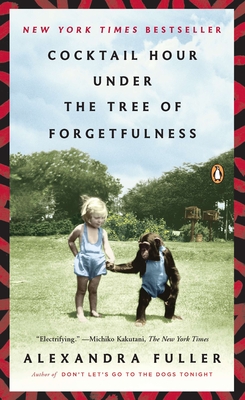 Cocktail Hour Under the Tree of Forgetfulness
Penguin Books, Paperback, 9780143121343, 256pp.
Publication Date: June 26, 2012
* Individual store prices may vary.
Buy at Local Store
Enter your zip code below to purchase from an indie close to you.
or
Buy Here
Description
A story of survival and war, love and madness, loyalty and forgiveness, Cocktail Hour Under the Tree of Forgetfulness is an intimate exploration of Fuller's parents and of the price of being possessed by Africa's uncompromising, fertile, death-dealing land. We follow Tim and Nicola Fuller hopscotching the continent, restlessly trying to establish a home. War, hardship, and tragedy follow the family even as Nicola fights to hold on to her children, her land, her sanity. But just when it seems that Nicola has been broken by the continent she loves, it is the African earth that revives and nurtures her. Cocktail Hour Under the Tree of Forgetfulness is Fuller at her very best.
About the Author
Alexandra Fuller was born in England in 1969. In 1972, she moved with her family to a farm in southern Africa. She lived in Africa until her midtwenties. In 1994 she moved to Wyoming, where she now resides.
Praise For Cocktail Hour Under the Tree of Forgetfulness…
"Electrifying…Writing in shimmering, musical prose… Ms. Fuller manages the difficult feat of writing about her mother and father with love and understanding, while at the same time conveying the terrible human costs of the colonialism they supported… Although Ms. Fuller would move to America with her husband in 1994, her own love for Africa reverberates throughout these pages, making the beauty and hazards of that land searingly real for the reader."
-Michiko Kakutani, THE NEW YORK TIMES

"Ten years after publishing Don't Let's Go to the Dogs Tonight: An African Childhood, Alexandra (Bobo) Fuller treats us in this wonderful book to the inside scoop on her glamorous, tragic, indomitable mother…Bobo skillfully weaves together the story of her romantic, doomed family against the background of her mother's remembered childhood."
-THE WASHINGTON POST

"Another stunner… The writer's finesse at handling the element of time is brilliant, as she interweaves near-present-day incidents with stories set in the past. Both are equally vivid… With "Cocktail Hour Under the Tree of Forgetfulness" Alexandra Fuller, master memoirist, brings her readers new pleasure. Her mum should be pleased." 

-CLEVELAND PLAIN-DEALER

"Fuller's narrative is a love story to Africa and her family. She plumbs her family story with humor, memory, old photographs and a no-nonsense attitude toward family foibles, follies and tragedy. The reader is rewarded with an intimate family story played out against an extraordinary landscape, told with remarkable grace and style."
-MINNEAPOLIS STAR-TRIBUNE

"[Fuller] conveys the magnetic pull that Africa could exert on the colonials who had a taste for it, the powerful feeling of attachment. She does not really explain that feeling—she is a writer who shows rather than tells—but through incident and anecdote she makes its effects clear, and its costs."
-THE WALL STREET JOURNAL

"[A]n artistic and emotional feat."
-THE BOSTON GLOBE

"An eccentric, quixotic and downright dangerous tale with full room for humor, love and more than a few highballs."
-HUFFINGTON POST