Your House Is on Fire, Your Children All Gone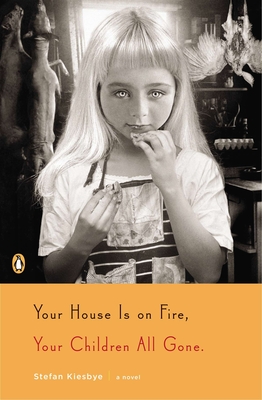 Your House Is on Fire, Your Children All Gone
Penguin Books, Paperback, 9780143121466, 208pp.
Publication Date: September 25, 2012
* Individual store prices may vary.
Shop Local
Enter your zip code below to find indies closest to you.
Description
The village of Hemmersmoor is a place untouched by time and shrouded in superstition: There is the grand manor house whose occupants despise the villagers, the small pub whose regulars talk of revenants, the old mill no one dares to mention. This is where four young friends come of age-in an atmosphere thick with fear and suspicion. Their innocent games soon bring them face-toface with the village's darkest secrets in this eerily dispassionate, astonishingly assured novel, evocative of Stephen King's classic short story "Children of the Corn" and infused with the spirit of the Brothers Grimm.
About the Author
Stefan Kiesbye's stories and poems have appeared in numerous magazines and anthologies, and his first book, "Next Door Lived a Girl", won the Low Fidelity Press Novella Award.
Praise For Your House Is on Fire, Your Children All Gone…
"Chilling . . . Reminiscent of Shirley Jackson . . . If you loved The White Ribbon—or the trope of sinister children generally—Stefan Kiesbye's Your House Is on Fire, Your Children All Gone is essential reading." —The Paris Review Daily
"Chilling . . . inflicting both terror and wonder. . . . Kiesbye digs deep . . . and comes up with horrific gold. . . . There is just one word potent enough to describe [it]: the novel is sublime." —BookPage
"As in Shirley Jackson's 'The Lottery,' the vague setting heightens the narrative tension. . . . Too subtle to be lurid yet too spooky for comfort, this book should appeal to readers of psychological fiction and literary tales of the supernatural." —Publishers Weekly
"[A] wicked novel . . . Stunning . . . [There is a] quiet, unnerving effect [to] Kiesbye's Brothers Grimm–like prose. . . . An episodic, poetic, nightmarish offspring of Grace Metalious's Peyton Placeand Ray Bradbury's Something Wicked This Way Comes." —Booklist
"Nearly always startling . . . Quietly savage . . . Clinically dispassionate and chilling . . . Smack[s] of shades of Shirley Jackson and Stephen King . . . In an age when 'torture porn' still makes regular returns to the multiplex every Halloween, it's worth being reminded that novelists, especially gifted ones, can make the trespasses we inflict on others just as ghastly as any chain-saw massacre." —Kirkus Reviews
"A very elegant nightmare, so appalling and so beautiful." —Audrey Niffenegger, author of The Time Traveler's Wife and Her Fearful Symmetry
"By turns creepy, sensitive, unsettling, and beautifully written, but best of all, it provokes dark stirrings while always providing great pleasure. Stefan Kiesbye would be a writer to watch out for if he had not so clearly already arrived." —Daniel Woodrell, author of Winter's Bone
"Creepy in a way that actually made me quite nervous." —Ben Loory, author of Stories for Nighttime and Some for the Day
"With a chilling twist here and there, a sly, stark wit, and a fascinating cast of lost boys and girls, Your House Is on Fire, Your Children All Gone is part nostalgia trip and part horror show, as honest and heartfelt as The Virgin Suicides in its portrait of adolescent yearning, anxieties, and heartbreak." —Timothy Schaffert, author of The Coffins of Little Hope
"A brilliant amalgam of Faulkner, the Brothers Grimm, and Günter Grass as if condensed for intensity." —Josip Novakovich, author of Fiction Writing Workshop and Writing Fiction Step By Step
"Quick, hypnotic, and intensely creepy. The characters are all doomed. 'Doomed to what?' is the only question, and you won't put the book down until you find out." —Christopher Buehlman, author of Those Across the River and Between Two Fires
"Full of dark folk magic and frightful, lurid wonder. It casts a spell, winking all the way through every grim detail and shadowy secret." —Paul Elwork, author of The Girl Who Would Speak for the Dead