How to Watch the Olympics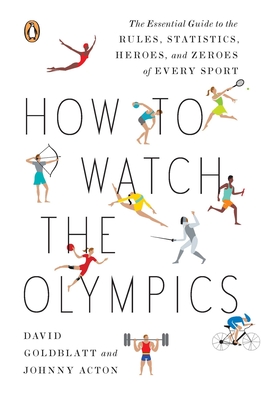 How to Watch the Olympics
The Essential Guide to the Rules, Statistics, Heroes, and Zeroes of Every Sport
Penguin Books, Paperback, 9780143121879, 400pp.
Publication Date: May 29, 2012
* Individual store prices may vary.
Buy at Local Store
Enter your zip code below to purchase from an indie close to you.
or
Not Currently Available for Direct Purchase
Description
The must-have guide to the Summer Olympic Games
This summer, millions of Americans will tune into the Olympic Games, the largest and most popular sporting event in the world. Yet while it's easy to be fascinated by agile gymnasts, poised equestrians, and perfectly synchronized swimmers, few of us know the real width of a balance beam, the intricate regulations of dressage, or the origin of those crowd-pleasing legs-in-the-air swimming formations. Luckily, David Goldblatt and Johnny Acton have created this utterly thorough and always fun guide to the rules, strategy, and history of each sport. Originally timed to 2012 London Games, their book is every bit as useful for Rio de Janeiro in 2016. With witty, detailed descriptions and clever illustrations, "How to Watch the Olympics" will help anyone grasp handball, archery, wrestling, fencing, and every other Olympic event like a true pro.
About the Author
David Goldblatt was born in London in 1965 and inherited, for his sins, Tottenham Hotspurs from his father. He has flirted with and abandoned careers in medicine, stand-up comedy, broadcasting, politics and academia. In previous lives he has published amongst other books, Social Theory and the Environment, Global Transformations and the World Football Yearbook. In this life he has been lucky enough to put them all together. He currently lives in Bristol, the Bermuda triangle of footballing prowess, where he spreads his affections amongst Spurs, Bristol Rovers and Bristol City.




Praise For How to Watch the Olympics…
 
"Rich in intriguing background . . . a wonderfully entertaining, informative read, one that caught me incessantly putting 'Did you know. . .' questions to my friends. . . . Like any good guidebook, How to Watch the Olympics gives us times, places, and dates for London events, but it's the well-told stories that are best. . . . The book did not have to be as good as it is. It could've gotten away with mediocrity and still capitalized on the London excitement. But Goldblatt and Acton set their sights on a higher prize. Stories, after all, are the foundation for why we watch sports in the first place. It is our good fortune to join these storytellers for the ride." —Christian Science Monitor

 
"Delicious facts sprint through How to Watch the Olympics. It's by a pair of cheeky Brit sportswriters, David Goldblatt and Johnny Acton, and sorry to sound like an infomercial, but if you only buy one book on the Olympics, buy this. I'm keeping my copy next to the remote control, from the July 27 opening ceremony to the final sign-off. . . . The book is very handy. There are short histories on every sport, and the rules are smartly explained." —Boston Globe

 
"The authors clearly and engagingly explain the rules, competitors and strategies of all the sports you'll be watching during this summer's London Olympics. Whether it's archery or kayaking, synchronized swimming or the marathon, this book tells you everything you need to know to converse intelligently about the games."—Minneapolis Star-Tribune

 
"Even Olympic-watching pros have to be impressed with this handy, one-volume guide to every sport for couch potatoes to become instant authorities on whatever they're watching. Where else will you get 12 splendid, simple pages telling you everything you could ever want to know about fencing? It goes without saying, of course, that foil matches are thoroughly delineated from those with the épée and sabre." —Buffalo News

 
"David Goldblatt and Johnny Acton smartly serve up How to Watch the Olympics. This handbook, with its fast facts and useful overviews of the many events, plus its thumbnail portraits of past Olympic performers, should rest comfortably on the easy chair, ready for quick access as the TV broadcasts commence." —BookPage

 
"A valuable guide to the 2012 Summer Olympic Games being held in London, replete with clever diagrams, witty prose, and the stories behind some of the more obscure events." —Publishers Weekly

 
"Affordable, portable, and informative, this accessible and fun book is highly recommended for Olympics watchers everywhere." —Library Journal

 
"The perfect event-by-event primer for sport's biggest occasion." —The Independent

 
"Those planning Olympic spectatorship in 2012 will not find a better vade mecum than this crisply informative guide to all 29 sports in next summer's games." —The Guardian

 
"Even the more obscure sports are ably explained with the aid of witty prose and diagrams. . . . This has more than a sporting chance of becoming the intelligent armchair guide of choice." —The Bookseller
Saturday, Jul 21, 2012
From the ultimate Olympic reference book to an account of the last London Games, bibliophile cabbie Will Grozier recommends books that put both the 2012 Games and their host city in context. More at NPR.org