The Quest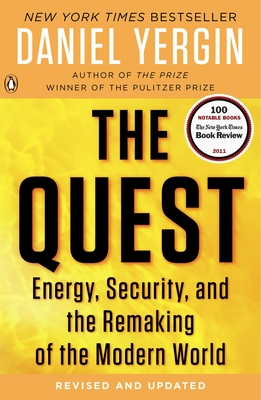 The Quest
Energy, Security, and the Remaking of the Modern World
Penguin Books, Paperback, 9780143121947, 820pp.
Publication Date: September 26, 2012
* Individual store prices may vary.
Buy at Local Store
Enter your zip code below to purchase from an indie close to you.
or
Buy Here
Description
A master storyteller as well as a leading energy expert, Daniel Yergin continues the riveting story begun in his Pulitzer Prize-winning book, "The Prize." In "The Quest," Yergin shows us how energy is an engine of global political and economic change and conflict, in a story that spans the energies on which our civilization has been built and the new energies that are competing to replace them.
"The Quest" tells the inside stories, tackles the tough questions, and reveals surprising insights about coal, electricity, and natural gas. He explains how climate change became a great issue and leads readers through the rebirth of renewable energies, energy independence, and the return of the electric car. Epic in scope and never more timely, "The Quest "vividly reveals the decisions, technologies, and individuals that are shaping our future.
About the Author
Daniel Yergin, chairman of Cambridge Energy Research Associates and the Global Energy Expert for the CNBC business news network, is a highly respected authority on energy, international politics, and economics. Dr. Yergin received the Pulitzer Prize for the number one bestseller "The Prize: The Epic Quest for Oil, Money & Power", which was also made into an eight-hour PBS/BBC series seen by 20 million people in the United States. The book has been translated into 12 languages. It also received the Eccles Prize for best book on an economic subject for a general audience.

Of Dr. Yergin s subsequent book, "Commanding Heights: The Battle for the World Economy", the" Wall Street Journal" said: No one could ask for a better account of the world s political and economic destiny since World War II. This book has been translated into 13 languages and Dr. Yergin led the team that turned it into a six-hour PBS/BBC documentary the major PBS television series on globalization. The series received three Emmy nominations, a CINE Golden Eagle Award and the New York Festival s Gold World Medal for best documentary. Dr. Yergin s other books include "Shattered Peace, "an award-winning history of the origins of the Cold War, "Russia 2010 and What It Means for the World" (with Thane Gustafson), and "Energy Future: The Report of the Energy Project at the Harvard Business School, "which he edited with Robert Stobaugh.
Praise For The Quest…
"Mr. Yergin is back with a sequel to The Prize. It is called The Quest: Energy, Security, and the Remaking of the Modern World, and, if anything, it's an even better book. It is searching, impartial and alarmingly up to date… The Quest will be necessary reading for C.E.O.'s, conservationists, lawmakers, generals, spies, tech geeks, thriller writers, ambitious terrorists and many others… The Quest is encyclopedic in its ambitions; it resists easy synopsis." 
-THE NEW YORK TIMES (Dwight Garner)

"A sprawling story richly textured with original material, quirky details and amusing anecdotes... The tale is generously sprinkled with facts debunking common misperceptions, and Mr. Yergin sagely analyzes how well the energy industry really works."
-THE WALL STREET JOURNAL

"It is a cause for celebration that Yergin has returned with his perspective on a very different landscape… [I]t is impossible to think of a better introduction to the essentials of energy in the 21st century. In Yergin's lucid, easy prose, the 800 pages flow freely… The Quest is… the definitive guide to how we got here."

-THE FINANCIAL TIMES

"An important book… a valuable primer on the basic issues that define energy today. Yergin is careful in his analysis and never polemical… Despite that, The Quest makes it clear that energy policy is not on the right course anywhere in the world and that everyone—on the left and the right, in the developed and the developing world—need to rethink strongly held positions."
-THE NEW YORK TIMES BOOK REVIEW (Fareed Zakaria)

 "Mr Yergin's previous book, The Prize, a history of the global oil industry, had the advantage of an epic tale and wondrous timing… The Quest, as its more open-ended title suggests, is a broader and more ambitious endeavour… The Quest is a masterly piece of work and, as a comprehensive guide to the world's great energy needs and dilemmas, it will be hard to beat." 

-THE ECONOMIST

"The Quest is a book—a tour de force, really—that evaluates the alternatives to oil so broadly and deeply that the physical tome could double as a doorstop… It is best read slowly, perhaps one chapter per day maximum, if the goal is to actually absorb the rich detail and sometimes complicated workings described by Yergin."
-USA TODAY