The Better Angels of Our Nature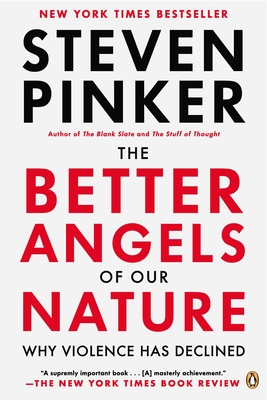 The Better Angels of Our Nature
Why Violence Has Declined
Penguin Books, Paperback, 9780143122012, 802pp.
Publication Date: September 25, 2012
* Individual store prices may vary.
Buy Now
or
Shop Local
Enter your zip code below to purchase from an indie close to you.
Description
A provocative history of violence from the "New York Times" bestselling author of "The Stuff of Thought" and "The Blank Slate"
Believe it or not, today we may be living in the most peaceful moment in our species' existence. In his gripping and controversial new work, "New York Times" bestselling author Steven Pinker shows that despite the ceaseless news about war, crime, and terrorism, violence has actually been in decline over long stretches of history. Exploding myths about humankind's inherent violence and the curse of modernity, this ambitious book continues Pinker's exploration of the essence of human nature, mixing psychology and history to provide a remarkable picture of an increasingly enlightened world.
About the Author
One of Time magazine's "100 Most Influential People in the World Today," Steven Pinker is the author of seven books, including How the Mind Works and The Blank Slate both Pulitzer Prize finalists and winners of the William James Book Award. He is an award-winning researcher and teacher, and a frequent contributor to Time and the New York Times.
Praise For The Better Angels of Our Nature…
"My favorite book of the last decade is [Steven] Pinker's Better Angels of Our Nature. It is a long but profound look at the reduction in violence and discrimination over time."--Bill Gates, founder of Microsoft

"For anyone interested in human nature, the material is engrossing, and when the going gets heavy, Pinker knows how to lighten it with ironic comments and a touch of humor. . . . A supremely important book. To have command of so much research, spread across so many different fields, is a masterly achievement."
-The New York Times Book Review

"An extraordinary range of research . . . a masterly effort."
-The Wall Street Journal

"Better Angels is a monumental achievement. His book should make it much harder for pessimists to cling to their gloomy vision of the future. Whether war is an ancient adaptation or a pernicious cultural infection, we are learning how to overcome it."

-Slate

Praise for THE STUFF OF THOUGHT
"The majesty of Pinker's theories is only one side of the story.  The other side is the modesty of how he built them.  It all makes sense, when you look at it the right way."


-The New York Times Book Review

 "Packed with information, clear, witty, attractively written …"

-The New York Review of Books

"Engaging and witty …Everyone with an interest in language and how it gets to be how it is—that is, everyone interested in how we get to be human and do our human business—should read THE STUFF OF THOUGHT."

-Science

Praise for THE BLANK SLATE

"An extremely good book—clear, well argued, fair, learned, tough, witty, humane, stimulating."

-Colin McGinn, The Washington Post

"Sweeping, erudite, sharply argued, and fun to read…also highly persuasive."

-Time