American Nations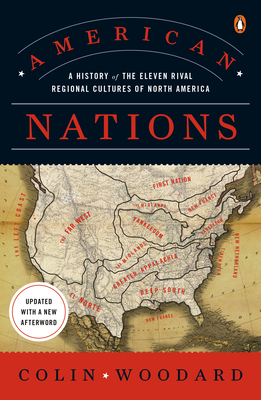 American Nations
A History of the Eleven Rival Regional Cultures of North America
Penguin Books, Paperback, 9780143122029, 371pp.
Publication Date: September 25, 2012
* Individual store prices may vary.
Buy at Local Store
Enter your zip code below to purchase from an indie close to you.
or
Buy Here
Description
ANew RepublicBest Book of the Year The GlobalistTop Books of the Year Winner of the Maine Literary Award for Non-fiction
Particularly relevant in understanding who voted for who in this presidential election year, this is an endlessly fascinating look at American regionalism and the eleven nations that continue to shape North America
According to award-winning journalist and historian Colin Woodard, North America is made up of eleven distinct nations, each with its own unique historical roots. In American Nations he takes readers on a journey through the history of our fractured continent, offering a revolutionary and revelatory take on American identity, and how the conflicts between them have shaped our past and continue to mold our future. From the Deep South to the Far West, to Yankeedom to El Norte, Woodard (author of American Character: A History of the Epic Struggle Between Individual Liberty and the Common Good) reveals how each region continues to uphold its distinguishing ideals and identities today, with results that can be seen in the composition of the U.S. Congress or on the county-by-county election maps of this year's Trump versus Clinton presidential election.
About the Author
Colin Woodardis a Maine native and the author ofOcean s End: Travels Through Endangered Seas. He is a regular contributor to theChristian Science Monitorand theSan Francisco Chronicle."
Praise For American Nations…
Winner of the 2012 Maine Literary Award for Non-fiction

"Mr. Woodard's approach is breezier than Mr. Fischer's and more historical than Mr. Garreau's, but he has earned a place on the shelf between them."
-The Wall Street Journal

"[C]ompelling and informative."
-The Washington Post

"[A] fascinating new ethnographic history of North America."

-Alec MacGillis, The New Republic

"Provocative reading."
-News and Observer

"[American Nations] sets itself apart by delving deep into history to trace our current divides to ethno-cultural differences that emerged during the country's earliest settlement."
-The New Republic, Editors' Picks: Best Books of 2011

"Fascinating…Engrossing…In the end…[American Nations] is a smart read that feels particularly timely now, when so many would claim a mythically unified 'founding Fathers' as their political ancestors."
-The Boston Globe

"In American Nations, [Colin Woodard] persuasively reshapes our understanding of how the American political entity came to be….[A] fascinating new take on history."

-The Christian Science Monitor

"Woodard offers a fascinating way to parse American (writ large) politics and history in this excellent book."
-Kirkus (starred review)

"Colin Woodard debunks the simplistic notion of Left Coast, red state, blues state and other broad-brush efforts to peg America's differences.…American Nations pulls off the unlikely feat of both offering the tools for just such a broader, deeper understanding—and demonstrates why, in a larger sense, that effort is doomed.…The key to the book's effectiveness is Woodard's skill—and irreverence—in delving into history with no qualms about being both brisk and contrarian.…[I]n offering us a way to better understand the forces at play in the rumpus room of current American politics, Colin Woodard has scored a true triumph. I am going to order copies for my father and sister immediately—and I hope Woodard gets a wide hearing for his fascinating study."
-The Daily Beast

"Provocative."
-Publishers Weekly

"[W]ell-researched analysis with appeal to both casual and scholarly readers."
-Library Journal

"Colin Woodard offers up an illuminating history of North America that explodes the red state-blue state myth.…Woodard's American Nations is a revolutionary and revelatory take on America's myriad identities, and how the conflicts between them have shaped our country's past and mold its future."
-MaineBusiness.com

"[F]or people interested in American history and sociology, American Nations demands reading.…American Nations is important reading."
-St. Louis Dispatch

"[I]f you want to better understand U.S. politics, history, and culture American Nations is to be required reading.…By revealing this continent of rivals, American Nations will revolutionize the way Americans think about their past, their country, and themselves and is sure to spark controversy."
-The Herald Gazette

"American Nations by journalist-historian Colin Woodard is a superb book. Woodard makes a compelling argument that the United Sates was founded by contradictory regional convictions that continue to influence current attitudes and policy on a national level.…American Nations smashes the idea of political borders.…There is much to grapple with in this well-written book."
-The Portland Press Herald