Troubled Daughters, Twisted Wives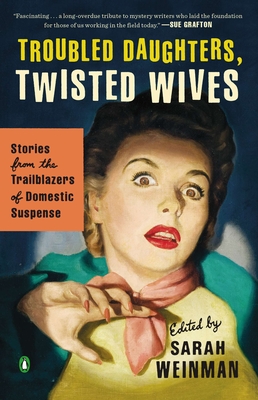 Troubled Daughters, Twisted Wives
Stories from the Trailblazers of Domestic Suspense
Penguin Books, Paperback, 9780143122548, 356pp.
Publication Date: August 27, 2013
* Individual store prices may vary.
Buy at Local Store
Enter your zip code below to purchase from an indie close to you.
or
Buy Here
Description
Fourteen chilling tales from the pioneering women who created the domestic suspense genre
Murderous wives, deranged husbands, deceitful children, and vengeful friends. Few know these characters and their creators better than Sarah Weinman. One of today's preeminent authorities on crime fiction, Weinman asks: Where would bestselling authors like Gillian Flynn, Sue Grafton, or Tana French be without the women writers who came before them?
In "Troubled Daughters, Twisted Wives," Weinman brings together fourteen hair-raising tales by women who from the 1940s through the mid-1970s took a scalpel to contemporary society and sliced away to reveal its dark essence. Lovers of crime fiction from any era will welcome this deliciously dark tribute to a largely forgotten generation of women writers.
Praise For Troubled Daughters, Twisted Wives…
 
"Crime connoisseur Sarah Weinman has thoughtfully selected a Whitman's Sampler of wickedness." – PW

"If you (like most people) are unfamiliar with the subgenre, you might be lured in by Patricia Highsmith's and Shirley Jackson's marquee names — but my favorite stories so far come from more obscure contributors." — Judy Berman, Editor-in-Chief of Flavorwire
  
"Sarah Weinman knows everything about crime fiction, and in her amazing anthology, she introduces an array of brilliant female writers who know more than they should about the dark side of the human psyche. Each story features a woman who's "good and mad" in her own shocking way, and Troubled Daughters, Twisted Wives is an important and riveting read."—Lisa Scottoline, New York Times bestselling author of Don't Go
 
"Troubled, twisted, and terrific. Where have these women been? Sarah Weinman's Troubled Daughters, Twisted Wives serves up stellar short stories, forgotten gems by some of the finest authors of their era."—Hallie Ephron, author of the bestselling There Was an Old Woman
 
"A short unabashed fan letter for a first rate job. My compliments to Ms. Weinman. It was like opening gifts, one story to the next, from a very young Patricia Highsmith to Shirley Jackson in her prime. A rare and worthy collection of suspense pioneers."—New York Times bestselling author Carol O'Connell
 
"At last, the anthology we have been waiting for: a veritable goldmine of spellbinding, psychologically rich tales. Masterfully curated by crime fiction expert Sarah Weinman, Troubled Daughters, Twisted Wives not only brings much-deserved attention to fourteen unjustly neglected, pioneering writers—it also changes the way we think about the history, and the future, of the suspense genre."—Edgar Award-winning author Megan Abbott
 
"These thoughtfully selected and very readable crime stories give us an unusually revealing and subtle portrait of the curtailed real lives of women in the mid twentieth century and the fantasies that would free them."—Sheila Kohler, author of Becoming Jane Eyre
 
"In this book, Weinman has expertly curated near-forgotten works by some of the most gifted women crime writers of all time. These chilling, provocative stories prove just how harrowing domestic suspense can be and together provide an eye-opening perspective on the evolution of the psychological thriller. Troubled Daughters, Twisted Wives delivers page after page of pure, dark pleasure."—Koethi Zan, author of The Never List