Treasure Hunt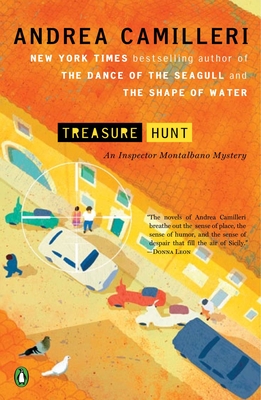 Treasure Hunt
Penguin Books, Paperback, 9780143122623, 278pp.
Publication Date: September 24, 2013
* Individual store prices may vary.
Buy at Local Store
Enter your zip code below to purchase from an indie close to you.
or
Buy Here
Description
The sixteenth Sicilian mystery in the irresistible "New York Times"-bestselling Inspector Montalbano series
In "Treasure Hunt," Montalbano is hailed as a hero after news cameras film him scaling a building--gun in hand--to capture a pair of unlikely snipers. Shortly after, the inspector begins to receive cryptic messages in verse from someone challenging him to go on a "treasure hunt." Intrigued, he accepts, treating the messages as amusing riddles--until they take a dangerous turn.
About the Author
Ne en 1925 presd'Agrigente, en Sicile, metteur en scene de theatre, realisateur de television et scenariste, Andrea Camilleris'est fait connaitre tardivement comme romancier, mais avec un succes foudroyant. Auteur culte de la serie des Montalbano, il ecrit parallelement des romans inspires par des documents d'archives.Chez Fayard sont parus"La Concession du telephone" (1999), "La Saison de la chasse" (2001, Prix de traduction Amedee Pichot), "Un filet de fumee" (2002), "Le Roi Zosimo" (2003), "Le Cours des choses" (2005), "La Prise de Makale" (2006), "Prive de titre" (2007), "Les Enquetes du commissaire Collura" (2008), "Petits" "Recits au jour le jour" (2008), "La Couleur du soleil" (2008), "Vous ne savez pas" (2009), "Le Pasteur et ses ouailles" (2009), "Maruzza Musumeci" (2009), "Le Grelot" (2010), "Le Ciel vole" (2010), "Un samedi entre amis" (2011), "Le Garde-barriere ("2012), "Le Coup de filet" (2012), "Le Neveu du Negus" (2013) et "Grand Cirque Taddei" (2014).

Stephen Sartarelli has translated widely from French and Italian, most recently works by Andrea Camilleri and Gabriele D Annunzio. His translations have won numerous prizes, including the Raiziss-De Palchi Award of the Academy of American Poets for" Songbook: Selected Poems of Umberto Saba" and the John Florio Award of the UK Society of Authors for "Prince of the Clouds" by Gianni Riotta.
Praise For Treasure Hunt…
Praise for Andrea Camilleri and the Inspector Montalbano Series:    "Camilleri's Inspector Montalbano mysteries might sell like hotcakes in Europe, but these world-weary crime stories were unknown here until the oversight was corrected (in Stephen Sartarelli's salty translation) by the welcome publication of The Shape of Water…This savagely funny police procedural…prove[s] that sardonic laughter is a sound that translates ever so smoothly into English."—The New York Times Book Review
     "Hailing from the land of Umberto Eco and La Casa Nostra, Montalbano can discuss a pointy-headed book like Western Attitudes Toward Death as unflinchingly as he can pore over crime-scene snuff photos. He throws together an extemporaneous lunch of shrimp with lemon wedges and oil as gracefully as he dodges advances from attractive women."—Los Angeles Times
    "[Camilleri's mysteries] offer quirky characters, crisp dialogue, bright storytelling—and Salvo Montalbano, one of the most engaging protagonists in detective fiction…Montalbano is a delightful creation, an honest man on Sicily's mean streets."—USA Today
    "Camilleri is as crafty and charming a writer as his protagonist is an investigator."—The Washington Post Book World
    "Like Mike Hammer or Sam Spade, Montalbano is the kind of guy who can't stay out of trouble…Still, deftly and lovingly translated by Stephen Sartarelli, Camilleri makes it abundantly clear that under the gruff, sardonic exterior our inspector has a heart of gold, and that any outburst, fumbles, or threats are made only in the name of pursuing truth."—The Nation
    "Camilleri can do a character's whole backstory in half a paragraph."—The New Yorker