The Safety of Objects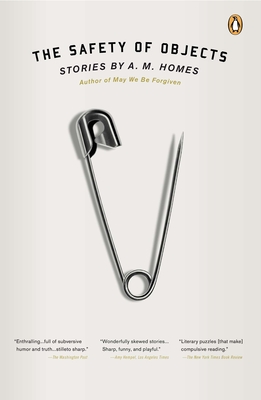 The Safety of Objects
Penguin Books, Paperback, 9780143122708, 171pp.
Publication Date: January 29, 2013
* Individual store prices may vary.
Buy at Local Store
Enter your zip code below to purchase from an indie close to you.
or
Buy Here
Description
The breakthrough story collection that established A. M. Homes as one of the most daring writers of her generation
Originally published in 1990 to wide critical acclaim, this extraordinary first collection of stories by A. M. Homes confronts the real and the surreal on even terms to create a disturbing and sometimes hilarious vision of the American dream. Included here are "Adults Alone," in which a couple drops their kids off at Grandma's and gives themselves over to ten days of Nintendo, porn videos, and crack; "A Real Doll," in which a girl's blond Barbie doll seduces her teenaged brother; and "Looking for Johnny," in which a kidnapped boy, having failed to meet his abductor's expectations, is returned home. These stories, by turns satirical, perverse, unsettling, and utterly believable, expose the dangers of ordinary life even as their characters stay hidden behind the disguises they have so carefully created.
About the Author
A. M. Homes is the author of the memoir The Mistress's Daughter and the novels This Book Will Save Your Life, Music for Torching, The End of Alice, In a Country of Mothers, and Jack. She has published fiction and essays in the New Yorker, Granta, Harper's Magazine, McSweeney's, One Story, the New York Times, and Vanity Fair, where she is a contributing editor. She lives in New York City.
Praise For The Safety of Objects…
Praise for The Safety of Objects:

"Enthralling . . . full of subversive humor and truth . . . original and stiletto sharp."  —The Washington Post 
"Wonderfully skewed stories . . . sharp, funny, and playful . . . Homes is confident and consistent in her odd departures from life as we know it, sustaining credibility by getting details right. A fully engaged imagination [is] at work—and play." —Amy Hempel, The Los Angeles Times 
"Alarmingly good . . . It is hard to say exactly who Homes's predecessors are—Roald Dahl, Rachel Ingalls, and J.D. Salinger all come to mind—but in many ways she is not unlike Cheever." —The Village Voice 
"A.M. Homes' provocative and funny and sometimes very sad takes on contemporary suburban life impressed me enormously. The more bizarre things get, the more impressed one is by A.M. Homes' skills as a realist, a portraitist of contemporary life at its more perverse." —David Leavitt 
"These stories are remarkable. They are awesomely well-written. In the sense of arousing fear and wonder in the reader they entertain, but what they principally bring us is a sense of recognition . . . Here are all the things that even today, even in our frank outspoken times, we don't talk about. We think of them punishingly in sleepless nights." —Ruth Rendell 

"An unnerving glimpse through the windows of other people's lives. A.M. Homes is a provocative and eloquent writer, and her vision of the way we live now is anything but safe." —Meg Wolitzer 

"Set in a world filled with edges to topple from, [The Safety of Objects] is permeated by the bizarre. . . . The unexpected emerges from the story itself, startling and unexpectedly right." —The Cleveland Plain Dealer