Tinderbox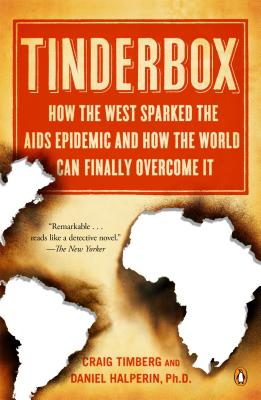 Tinderbox
How the West Sparked the AIDS Epidemic and How the World Can Finally Overcome It
Penguin Books, Paperback, 9780143123002, 422pp.
Publication Date: March 5, 2013
* Individual store prices may vary.
Buy at Local Store
Enter your zip code below to purchase from an indie close to you.
or
Buy Here
Description
"Remarkable... reads like a detective novel." "The New Yorker"
In this groundbreaking work that reads like a detective novel, longtime "Washington Post" reporter Craig Timberg and award-winning AIDS researcher Daniel Halperin tell the surprising story of how Western colonial powers unwittingly sparked the AIDS epidemic and then fanned the flames. Drawing on remarkable new science, "Tinderbox" overturns the conventional wisdom on the origins of this deadly pandemic, and in a riveting narrative that stretches from colonial Leopoldville to 1980s San Francisco to South Africa today, it reveals how human hands unleashed this epidemic and can now overcome it, if only we learn the lessons of the past.
Praise For Tinderbox…
"A remarkable volume. With rare clarity, Tinderbox lays bare the origins of the AIDS virus, and then reveals the often hapless and delinquent responses of the international community. It's a fascinating read: relentlessly honest, sometimes scathing, alway principled."
    —Stephen Lewis, Founder/Director of AIDS-Free World, Former UN Special Envoy on AIDS in Africa

"Remarkable...reads like a detective novel."—The New Yorker

"Gripping … buy the book."—The Nation

"A strong warning to those who would disregard the cultural specificities of those one is trying to serve."—The New York Times (EDITORS CHOICE)

"Tinderbox will help readers understand...why the period ahead is so critical in fighting the epidemic. Millions of lives depend on the effort."—The Washington Post

"In addition to a useful history of the disease, Timberg and Halperin examine how to confront it and develop more effective ways to fight it…[Timberg and Halpern] present a forceful case with which future students of HIV and AIDS will have to reckon."—Kirkus (STARRED REVIEW)

"Insightful."—Salon

 "Essential for understanding a relentlessly urgent issue."—Library Journal

"An essential and engrossing read, Timberg and Halperin's sweeping work covers AIDS from its origins…to its impact on the world today…Extensively researched, eminently readable and accessible, Timberg and Halperin's work is a notable and invaluable addition to the AIDS canon."—Booklist (STARRED REVIEW)

"Tinderbox is an unusually compelling and informative account of how the AIDS epidemic has affected the world, particularly the peoples of Africa. In a compassionate and engaging manner, Timberg and Halperin bring to life the story from its beginnings to the most recent evidence on how to effectively prevent further tragedy."
—Jay Levy, M.D., director, Laboratory for Tumor and AIDS Virus Research, University of California, San Francisco

"Craig Timberg and Daniel Halperin have written a searing book about the AIDS epidemic. Tinderbox is an indictment of Western ineptitude and meddling and lost opportunities to prevent millions of infections and deaths. But it also contains valuable prescriptions for making changemdash;and it's an important read for anyone who cares about Africa."
—Stephanie Nolen, author of 28: Stories of AIDS in Africa

"Timberg and Halperin have been challenging conventional wisdom (and behavior change skeptics like me) for years. Their book is entertaining, thought-provoking, human, and in the end, hopeful for a continent that craves some answers after two decades of HIV prevention failures."
—Francois Venter, M.D., president, Southern African HIV Clinicians Society

"Randy Shilts's And the Band Played On was the first—and for decades the best—book on AIDS. Craig Timberg and Daniel Halperin's Tinderbox is every bit as good, revealing the same denial, the same story of politics trumping science, and the same tragedy. This time, it is about the whole world, not just San Francisco. Read it!"
—Malcolm Potts, M.D., author of The AIDS Reader and Ever Since Adam and Eve

"The sometimes glorious, often tragic constellation of science, politics, and personalities in the fight against AIDS comes to life in the masterful storytelling of an energetic journalist and a passionate scientist."
—Arthur Allen, author of Vaccine: The Controversial Story of Medicine's Greatest Lifesaver

"An excellent read. Tinderbox brilliantly outlines the successes, failures, and missed opportunities in the battle of HIV prevention over the last thirty years."
—Elly Katabira, M.D., president, International AIDS Society