Private Empire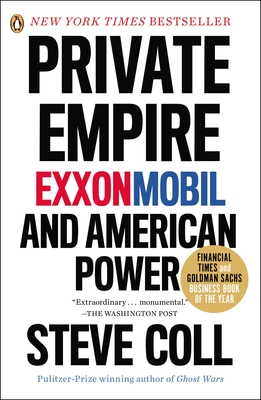 Private Empire
Exxonmobil and American Power
Penguin Books, Paperback, 9780143123545, 685pp.
Publication Date: May 28, 2013
* Individual store prices may vary.
Buy at Local Store
Enter your zip code below to purchase from an indie close to you.
or
Buy Here
Description
An "extraordinary" and "monumental" exposE of Big Oil from two-time Pulitzer Prize winner Steve Coll ("The Washington Post")
In this, the first hard-hitting examination of ExxonMobil--the largest and most powerful private corporation in the United States--Steve Coll reveals the true extent of its power. "Private Empire" pulls back the curtain, tracking the corporation's recent history and its central role on the world stage, beginning with the Exxon Valdez accident in 1989 and leading to the Deepwater Horizon oil spill in the Gulf of Mexico in 2010. The action spans the globe--featuring kidnapping cases, civil wars, and high-stakes struggles at the Kremlin--and the narrative is driven by larger-than-life characters, including corporate legend Lee "Iron Ass" Raymond, ExxonMobil's chief executive until 2005. A penetrating, news-breaking study, "Private Empire" is a defining portrait of Big Oil in American politics and foreign policy.
About the Author
Steve Coll is a writer for "The New Yorker" and author of the Pulitzer Prize- winning "Ghost Wars: The Secret History of the CIA, Afghanistan, and Bin Laden, from the Soviet Invasion to September 10, 2001," He is president of the New America Foundation, a public policy institute in Washington, D.C. Previously he served, for more than twenty years, as a reporter, foreign correspondent, and ultimately as managing editor of "The Washington Post," He is also the author of "On the Grand Trunk Road, The Deal of the Century, and The Taking of Getty Oil," Coll received a 1990 Pulitzer Prize for explanatory journalism and the 2001 Robert F. Kennedy Journalism Award for outstanding international print reporting and the 2000 Overseas Press Club Award for best magazine reporting from abroad. "Ghost Wars," published in 2004, received the Pulitzer for general nonfiction and the Arthur Ross award for the best book on international affairs.
Praise For Private Empire…
 "ExxonMobil has met its match in Coll, an elegant writer and dogged reporter… extraordinary… monumental." --THE WASHINGTON POST

"Fascinating… Private Empire is a book meticulously prepared as if for trial, a lawyerly accumulation of information that lets the facts speak for themselves… a compelling and elucidatory work." --BLOOMBERG

"Private Empire is meticulous, multi-angled and valuable… Mr. Coll's prose sweeps the earth like an Imax camera."
— Dwight Garner, THE NEW YORK TIMES

"ExxonMobil has cut a ruthless path through the Age of Oil. Yet intense secrecy has kept one of the world's largest companies a mystery, until now. Private Empire: ExxonMobil and American Power is a masterful study of Big Oil's biggest player… Coll's in-depth reporting, buttressed by his anecdotal prose, make Private Empire a must-read. Consider Private Empire a sequel of sorts to The Prize, Daniel Yergin's Pulitzer-winning history of the oil industry… Coll's portrait of ExxonMobil is both riveting and appalling… Yet Private Empire is not so much an indictment as a fascinating look into American business and politics. With each chapter as forceful as a New Yorker article, the book abounds in Dickensian characters."
— SAN FRANCISCO CHRONICLE

"Coll makes clear in his magisterial account that Exxon is mighty almost beyond imagining, producing more profit than any American company in the history of profit, the ultimate corporation in 'an era of corporate ascendancy.' This history of its last two decades is therefore a revealing history of our time, a chronicle of the intersection between energy and politics."
--Bill McKibben, NEW YORK REVIEW OF BOOKS

"Groundbreaking... Masterful as a corporate portrait, Private Empire gushes with narrative."
— AMERICAN PROSPECT