Shadow of Night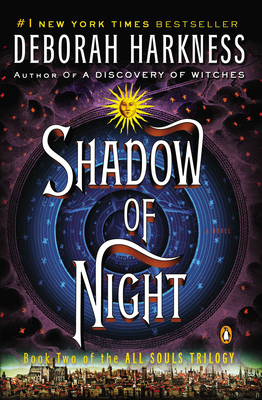 Shadow of Night
Penguin Books, Paperback, 9780143123620, 583pp.
Publication Date: May 28, 2013
* Individual store prices may vary.
Buy at Local Store
Enter your zip code below to purchase from an indie close to you.
or
Buy Here
Description
The #1 New York Times–bestselling sequel to A Discovery of Witches—"as enchanting, engrossing, and impossible to put down as its predecessor" (Miami Herald)

J. K. Rowling, Stephenie Meyer, Anne Rice—only a few writers capture the imagination the way that Deborah Harkness has with her New York Times–bestselling All Souls trilogy. A Discovery of Witches introduces reluctant witch Diana Bishop, vampire geneticist Matthew Clairmont, and the battle for a lost, enchanted manuscript known as Ashmole 782.

Picking up from A Discovery of Witches' cliffhanger ending, Shadow of Night takes Diana and Matthew on a trip through time to Elizabethan London, where they are plunged into a world of spies, magic, and a coterie of Matthew's old friends, the School of Night. As the search for Ashmole 782 deepens and Diana seeks out a witch to tutor her in magic, the net of Matthew's past tightens around them, and they embark on a very different—and vastly more dangerous—journey.

The Book of Life, the much-anticipated conclusion to the All Souls trilogy, will be published by Viking in July 2014.
About the Author
Deborah Harkness est professeur a l Universite de Californie du Sud. Specialiste de l histoire des sciences et de la magie en Europe du XVIe au XVIIIe siecle, elle a publie deux essais tres remarques avant de se lancer dans l ecriture de romans. Elle tient egalement un blog sur le vin qui a ete plusieurs fois prime. Vendus dans une quarantaine de pays, best-seller international salue par la critique, "Le Livre perdu des sortileges" est son premier roman.
Praise For Shadow of Night…
 Praise for Shadow of Night

"A captivating and romantic ripping yarn."
—E. L. James, "Books of the Year 2012: Authors Choose Their Favourites," The Guardian

"The joy that Harkness, herself a historian, takes in visiting the past is evident on every page. . . . A great spell, the one that can enchant a reader and make a 600-page book fly through her fingertips, is cast. . . . Its enduring rewards are plenty."
—Entertainment Weekly

"Fans of Harkness's 2011 debut A Discovery of Witches will be delighted. . . . Harkness delivers enough romance and excitement to keep the pages turning. Readers will devour it."
—People

"Deborah Harkness takes us places we've never been before. . . . Shadow of Night isn't just about wonderfully detailed descriptions of England in 1591, it's about being there. Readers time-travel as precisely and precariously as Diana and Matthew do. . . . Shadow ends as Discovery did with promises of more to come. Lucky for us."
—USA Today

"Harkness exudes her own style of magic in making the world of late 16th century England come alive. . . . Enchanting, engrossing and as impossible to put down as its predecessor, Shadow of Night is a perfect blend of fantasy, history and romance. Its single greatest flaw is, after almost 600 pages, it's over. If you've already read and enjoyed A Discovery of Witches, picking up Shadow of Night is an absolute requirement. Otherwise, pick up both, and consider your reading list complete."
—Miami Herald

"Picking up where she left off in last year's A Discovery of Witches, Harkness proves she's not suffering from a sophomore slump with this addictive tale of magic, mayhem and two lovers."
—Chicago Tribune

"Rich, period fun, particularly delightful in its witty characterization of historical immortals . . . Shadow ramps up the supernatural suspense."
—New York Daily News

"This novel is as much a love story about a bygone era as it is about Matthew and Diana. It overflows with a colorful cast of characters, many of whom Harkness has plucked straight from the history books, and Harkness renders the late 1500s in exquisite detail. . . . The writing is so rich, the characters so compelling . . . and best of all, Harkness manages to execute with aplomb the act of answering old questions while posing new ones that will intensify anticipation for the final installment. Readers who have been counting down the days, take heart: The wait was most assuredly worth it."
—BookPage
"Harkness delights in lining up the living dead and modern academic history. . . . This tale of a feminist Yankee in Queen Elizabeth's court charms amid the tumult, as the gifted heroine and her groom fight for generations and another sequel to come in order to protect the magical world that's all around us."
—Publishers Weekly