Poking a Dead Frog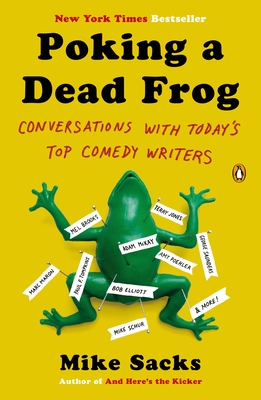 Poking a Dead Frog
Conversations with Today's Top Comedy Writers
Penguin Books, Paperback, 9780143123781, 453pp.
Publication Date: June 24, 2014
* Individual store prices may vary.
Buy Now
or
Shop Local
Enter your zip code below to purchase from an indie close to you.
Description
A ""NEW YORK TIMES" "BESTSELLER
NAMED A BEST BOOK OF THE YEAR BY NPR
Amy Poehler, Mel Brooks, Adam McKay, George Saunders, Bill Hader, Patton Oswalt, and many more take us deep inside the mysterious world of comedy in this fascinating, laugh-out-loud-funny book. Packed with behind-the-scenes stories from a day in the writers room at "The" "Onion "to why a sketch does or doesn t make it onto "Saturday Night Live "to how the BBC nearly erased the entire first season of "Monty Python's Flying Circus Poking a Dead Frog "is a must-read for comedy buffs, writers and pop culture junkies alike.
About the Author
Mike Sacks has written for such publications as "The Believer", "Esquire", "GQ", "Maxim", "McSweeney's", "The New Yorker", "Premiere", "Radar", "Salon", "Time", "Time Out New York", "Vanity Fair", "Vice" and "Women's Health". He has worked at "The Washington Post", and is currently on the editorial staff of "Vanity Fair".
Praise For Poking a Dead Frog…
"No one generates more interesting, revealing, or entertaining interviews than Mike Sacks. Poking a Dead Frog is a classic." 
—Bob Odenkirk, co-creator of Mr. Show and former writer, Saturday Night Live

"This book is what I really look forward to in a book about humor: rich with words and humor, and funny stories with words. Thank you for your time."
—Will Ferrell
 
"These interviews go to dark depths and offer useful, applicable insight into how excellent comedy is written. If you read it, you're going to be better at writing comedy and may even wind up in a position where you can take jobs away from the younger interviewees. I specify the younger interview subjects because some of the older ones will die soon."
—Rob Delaney, author of Rob Delaney: Mother. Wife. Sister. Human. Warrior. Falcon. Yardstick. Turban. Cabbage.

"I wish I'd had a book like this when I was trying to break in. Also, a book on personal hygiene."
—Jack Handey, author of Deep Thoughts and The Stench of Honolulu
 
"A greater look into the craft and business of comedy writing than you can find anywhere else…With And Here's the Kicker, Mike Sacks created the perfect book for comedy nerds, but he's one-upped himself with [Poking a Dead Frog], a comedy nerd bible that's longer, stronger, and more wide-ranging than the first."
—Bradford Evans, Splitsider
 
"There are few better interviewers than Mike Sacks. Poking a Dead Frog is a must-read for any comedy nerd or fan of pop culture history."
—Dana Brown, Vanity Fair

Praise for And Here's the Kicker: Conversations with 21 Top Humor Writers

"Compulsively readable...filled with great advice...A funny, sad, tremendously insightful group portrait of the comic mind." –The Onion

"Entertaining and informative." –The New York Times, "ArtsBeat" Blog 

"Reads like a secret history of popular culture." –Time 

"Laughter may be universal, but the world of comedy writing is shrouded in mystery. [Sacks] helps lift the veil." –Vanity Fair

"A fascinating mix of cultural reportage, how-to, and hagiography...Sacks digs into the inner workings of the comic mind (a sometimes deeply troubled one) and into the inner sanctum of the writers' room." –The Austin Chronicle

"And Here's the Kicker is the book I suggest to anyone who wants to be a comedy writer." –Tim Carvell, head writer, The Daily Show

Praise for Your Wildest Dreams, Within Reason 
 
"Your Wildest Dreams, Within Reason makes you laugh out loud, and at the same time it inspires wonder…Mike Sacks is not just a sensational comic writer, but a sensational writer–period." –David Sedaris
 
"[Sacks] is a brilliant and hilarious writer." –Comedy Central Insider