Plutocrats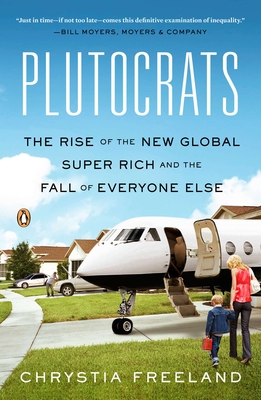 Plutocrats
The Rise of the New Global Super-Rich and the Fall of Everyone Else
Penguin Books, Paperback, 9780143124061, 332pp.
Publication Date: September 24, 2013
* Individual store prices may vary.
Buy at Local Store
Enter your zip code below to purchase from an indie close to you.
or
Buy Here
Description
A Financial Times Best Book of the Year
Shortlisted for the Lionel Gelber Prize
There has always been some gap between rich and poor in this country, but recently what it means to be rich has changed dramatically. Forget the 1 percent Plutocrats proves that it is the wealthiest 0.1 percent who are outpacing the rest of us at breakneck speed. Most of these new fortunes are not inherited, amassed instead by perceptive businesspeople who see themselves as deserving victors in a cutthroat international competition. With empathy and intelligence, Plutocrats reveals the consequences of concentrating the world's wealth into fewer and fewer hands. Propelled by fascinating original interviews with the plutocrats themselves, Plutocrats is a tour de force of social and economic history, the definitive examination of inequality in our time.
About the Author
Chrystia Freeland is the managing editor and director of consumer news at Thomson Reuters and the author of Sale of the Century: The Inside Story of the Second Russian Revolution. She lives in New York City.
Praise For Plutocrats…
A Financial Times Best Book of the Year
Shortlisted for the Lionel Gelber Prize

*

"Just in time – if not too late – comes this definitive examination of inequality in our time. I think it's the bookend to the Hacker-Pierson book, Winner-Take-All Politics. These two are essential reading for anybody who wants to understand where we are."
—Bill Moyers, Moyers & Company

"Freeland is an insightful and indefatigable reporter…  Freeland concludes by reminding us of Venice, which 700 years ago made itself a wealthy imperial power through commerce. The city fell into decline when its own plutocrats tried to cement their advantages, thereby stifling the openness that accounted for the society's dynamism. Today, of course, Venice is sinking. Freeland's book will make people wonder if we are, too." --Bloomberg Businessweek

"Timely and absorbing... this is no voyeuristic glimpse into the fabulous lifestyles of the rich and famous. Freeland charts the rise of this class by examining global trends and exploring the consequences of the creation of such a money-laden elite, shifting smoothly from dense academic studies and interviews with George Soros to grappling with the success of Lady Gaga… Her findings are fleshed out with fine research, strong statistics and neat nuggets of information." --The Guardian (UK)

"Plutocrats isn't a book about the lifestyles of the fabulously wealthy, but rather the global trends the book's titular class surfed to success… it's rife with impressive analysis. In a chapter on the so-called superstar effect—"the tendency of both technological change and globalization to create winner-take-all economic tournaments"—Ms. Freeland glides from the writings of Soviet intellectuals, MIT and Princeton economists and the apostle Matthew to the careers of 18th century diva Elizabeth Billington, Lady Gaga, white-shoe lawyer David Boies, Yves St. Laurent, DreamWorks CEO Jeffrey Katzenberg and Albert Einstein… the thoroughness with which Ms. Freeland surrounds the ideas is satisfying." --The New York Observer

"A portrait of the ultra-rich that few other journalists have had the access to capture… Unlike some critics on the left, Freeland does not vilify her super-rich protagonists – a nonpartisan approach that helps make Plutocrats harder to ignore." --USA Today

"Rising inequality is one of the most pressing issues of our time. Chrystia Freeland's Plutocrats provides us with a glimpse of the lives of America's elites and a disquieting look at the society that produces them. This well-written and lively account is a good primer for anyone who wants to understand one extreme of America today."
    --Joseph Stiglitz, author of The Price of Inequality; University Professor, Columbia University

"Mix crisp economics, ripe history, and two pinches of salty gossip, and you have the flavor of Chrystia Freeland's entertaining book. From the opulent Bradley Martin ball of 1897 to its modern echoes in Sun Valley and Davos, Plutocrats chronicles the habits of the workaholic overclass—its taste for British public schools, its immodest philanthropy, its fundamental rootlessness. Even as she describes this gilded tribe, Freeland advances a paradoxical warning. Open societies may allow super-achievers to pile up extraordinary riches—and to feel that they have more or less deserved them. But the more these meritocrats succeed, the more likely they are to entrench their own offspring at the top of the heap, negating the very meritocracy that afforded them their chances. Already in the United States, graduating from college is more closely linked to having wealthy parents than to grades in high school. When class matters more than going to class, Freeland's message must be treated with the utmost seriousness."
    --Sebastian Mallaby, author of More Money than God: Hedge Funds and the Making of a New Elite

"Our world increasingly revolves around global elites who not only have an oversized effect on our politics but also set the trends and furnish us with the dominant discourse. In this delightful book, Chrystia Freeland tells the story of how we got here and what distinguishes our elites from those of previous epochs. Most importantly, she explains why the elites' dominance, even when it appears benign, is a challenge to our institutions and gives us clues about how we can overcome it."
    --Daron Acemoglu, co-author of Why Nations Fail; economics professor, Massachusetts Institute of Technology

"The world's wealthy elite, is more wealthy, more knit together, more separate from their fellow citizens and probably more powerful than ever before. This very important  book describes their lives and more important how their lives affect all of ours. It should be read by anyone concerned with how their world is being shaped and how it will evolve."
    --Lawrence Summers, Former U.S. Treasury Secretary; Charles W. Eliot University Professor, Harvard University

"Chrystia Freeland has written a fascinating account of perhaps the most important economic and political development of our era: the rise of a new plutocracy. She explains that today's wealthy are different from their predecessors: more skilled and more global; and more often employees than owners, notably so in finance and high technology. By putting together stories of individuals with reading of the scholarly evidence, she gives us a clear view of what many will view as a not so brave new world."
    --Martin Wolf, Chief Economics Commentator for the Financial Times