On Being Awesome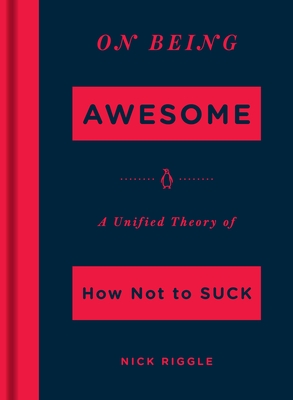 On Being Awesome
A Unified Theory of How Not to Suck
Penguin Books, Hardcover, 9780143130901, 224pp.
Publication Date: September 19, 2017
* Individual store prices may vary.
Buy at Local Store
Enter your zip code below to purchase from an indie close to you.
or
Pre-Order Now
Description
A lively philosophical exploration of what it means to be awesome and not suck, and a plea for more awesomeness in our personal, social, and public lives In this engaging, fun, and astute investigation of a thoroughly contemporary condition, philosopher and former pro skater Nick Riggle argues that our collective interest in being awesome (and not sucking) marks a new era in American culture, one that is shaped by relatively recent social, political, and technological shifts. At the core of his work is the idea that awesome people are exemplars of social creativity. We suck when we foil their attempts at creative community building. To be down, game, chill, basic, wack, or a preference dictator are just a handful of ways we can create, respond to, or fail to take up social openings in the office, in public, or with our friends and loved ones. What can the invention of the high five and the history of "cool" tell us about the origins of awesome? Can introverts be awesome? How do our expectations of awesome relate to race, gender, and sexuality? How is our desire for awesomeness shaping our cultural landscape--art, altruism, athletics, and public life? These are just a few of the questions Riggle explores in this accessible, philosophical road trip through the ethos of our time.

On Being Awesome articulates a singular and gripping cultural ideal and provides a new and inspiring framework for understanding friendship, success, and happiness in our everyday lives.
About the Author
Nick Riggle dropped out of high school to become a pro-skater, participating in stunt shows, demos, and world class competitions (including three ESPN X Games appearances). He has a BA in philosophy from UC Berkeley and a Ph.D. from NYU, America's leading philosophy program; he is currently a philosophy professor at the University of San Diego. He speaks widely at conferences and workshops and co-organized the first major academic conference on the philosophy of street art and graffiti. He continues to publish in key and notable philosophy journals, as well as more popular outlets including McSweeney's, Aeon (on the high five, awesomeness and suckiness), and Hyperallergic. His current academic work focuses on the role of aesthetic value in human life and is supported by a grant from The Experience Project, a 4.8 million dollar, three-year initiative at UNC Chapel Hill and the University of Notre Dame.