The Woman Who Died a Lot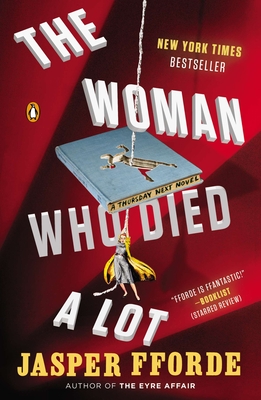 The Woman Who Died a Lot
Penguin Books, Paperback, 9780147509765, 366pp.
Publication Date: September 24, 2013
* Individual store prices may vary.
Buy at Local Store
Enter your zip code below to purchase from an indie close to you.
or
Buy Here
Description
The smashing seventh book in the New York Times-bestselling Thursday Next series With more than one million books in print worldwide, Jasper Fforde's beloved series charms a growing number of readers with each new adventure. In The Woman Who Died a Lot, Thursday Next faces her trickiest assignment yet. When her former SpecOps division is reinstated, Thursday assumes she's the obvious choice to lead the Literary Detectives. Instead, she's put in charge of the Swindon All-You-Can-Eat-at-Fatso's Drink Not Included Library. But where Thursday goes, trouble follows. As the new Chief Librarian faces one-hundred-percent budget cuts and the ever-evil Jack Schitt, the Next children face their own career hiccups--and possible nonexistence.
About the Author
Jasper Fforde traded a varied career in the film industry for staring vacantly out the window and arranging words on a page. He lives and writes in Wales.
Praise For The Woman Who Died a Lot…
Praise for The Woman Who Died A Lot 
"Fforde continues to show that his forte is absurdist humor in his seventh crime thriller starring Thursday Next, a member of the Literary Detectives division of Special Operations in an alternate-universe Britain.  [An] endearingly-bizarre fantasy world limited only by Fforde's impressive imagination." –Publishers Weekly
 "As always, Fforde makes this wacky world perfectly plausible, elucidating Ffordian physics with just the right ratio of pseudoscientific jargon to punch lines. It's a dazzling, heady brew of high concept and low humor, absurd antics with a tea-and-toast sensibility that will appeal to fans of Douglas Adams and P. G. Wodehouse alike. Fforde is ffantastic!"–Booklist (starred review)
 "Strap in and hang on tight.... Another winner for fans and lovers of sf, time travel, puns, allusions, and all sorts of literary hijinks."–Library Journal (Starred review)
 "Jasper Fforde fans, rejoice! The Woman Who Died a Lot, the seventh installment in his Thursday Next series, delivers all the imagination, complexity and laughs we've come to expect from Fforde and his book-hopping, butt-kicking heroine.The Woman Who Died a Lot brings together the charming lunacy and intricate plotting that have enthralled Fforde's readers over the years." –Shelf Awareness
  "In Misery, Stephen King compares the euphoric feeling writers experience in creative bursts to 'falling into a hole filled with bright light.' Avid readers also know that feeling: A good story temporarily erases the world. British novelist Jasper Fforde has expanded on King's simile in a wonderful seven-book series of novels featuring Thursday Next. Enormously knowledgeable about literary history, Fforde scatters nuggets for nerdy readers like me. By the end, all of Fforde's myriad particles of plot, accelerated by his immense skill and narrative sense, collide, producing pyrotechnics and a passel of new particles to propel his next tale. I love the Thursday Next books, and when a new one appears, I don't fall but leap into this bibliophile's Wonderland." –The Cleveland Plain Dealer
 "This is the proverbial madcap lighthearted romp, full of hijinks, parody, and puns. Jasper Fforde does it well. It's safe to say that if you enjoy that particularly British, Douglas Adams-style absurd delivery of wry observations, you'll get a kick out of this one." –New York Journal of Books

"The Welsh writer Jasper Fforde's wildly inventive books defy easy description — more accurately, they mercilessly mock the concept of easy description. Are they mysteries? Outrageous parodies of literary classics? Science fiction? Absurdist humor? Gleeful mashups of all the above? [The Woman Who Died A Lot is] still big, big fun, with enough in-jokes to keep anyone snickering for a long time — especially English Lit geeks." –The Seattle Times
 "Quirky and surprising and funny. Thursday fans will welcome her return."–The Free Lance–Star
  UK praise
 "Reading a Fforde novel feels like taking off on a magic carpet, only to be picked up by another and another and taken on new flights of fantasy... When the plot is thundering along, peppered with jokes, lively dialogue and silly names ... you just sit back and enjoy the ride."–Scotsman
 "Jam packed with ingeniously witty ideas."–SFX.co.uk
 "A riot of puns, in-jokes and literary allusions that Fforde carries off with aplomb."–Daily Mail
 "Fans of the late Douglas Adams, or, even, Monty Python, will feel at home with Fforde."–Herald
 "Forget all the rules of time, space and reality; just sit back and enjoy the adventure."–Sunday Telegraph
 "Parallel-universe larks with surreal heroine Thursday Next, trying to get some down time in Swindon. Fat chance."–Mail on Sunday Live Magazine
 "More inspired lunacy in a truly funny read."–Press Association
 "Any worries that by now the Thursday Next series would have settled into a rut prove groundless here, as Jasper Fforde delivers another swerveball ... It's the usual mix of fiendishly clever plotting and exquisitely executed comedy setpieces" **** –SFX